Stranded Siberian Fishermen Suspected Of Turning Cannibal And Eating Their Friends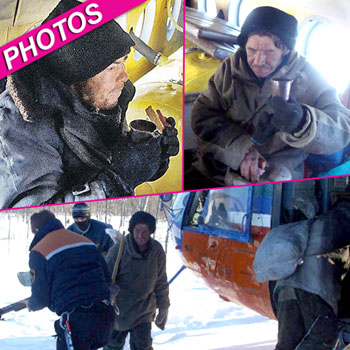 By Debbie Emery - RadarOnline.com Reporter
In a tale that is reminiscent of a Hollywood disaster story, two fisherman lost in the freezing tundra of Siberia are suspected of killing and eating
their friends in order to survive.
Four friends headed off for a fishing trip along the remote Sutam River in August, but only two were plucked from the Sakha Republic months later in a dramatic helicopter rescue by the the Russian Emergencies Ministry, reported the Siberian Times.
Article continues below advertisement
Alexander Abdullaev, 37, and Alexei Gradulenko, 35, were found alive – but only just – an astounding three months after they ventured out to one of the most remote regions in the world where temperatures drop below –22 Fahrenheit.
One body was found and one is still missing, however police are not certain if the corpse is that of Viktor Komarov, 47, or Andrei Kurochkin, 44, but they do suspect the dead man was murdered – most likely for his flesh if grisly knife wounds are any indication.
Near the ravaged body, investigators reportedly found a wooden stake or ax that could have been used as a murder weapon, blood trails in the snow and a bloody jacket belonging to one of their pals.
"We suspect, the two survivors could have killed and eaten their friend just because of hunger," an police source told Life News website. "But both deny they have anything to do with his death. Looking at the body parts found at the spot, we clearly saw cuts. It means the body was hacked to pieces.
Article continues below advertisement
"Now the body parts - some human flesh and part of the skull - are taken to the morgue," said the witness to the gory case.
The fourth member of the group is missing completely, prompting police to suspect that he might also have been a victim of cannibalism in the fisherman's blood-thirsty struggle to survive.
"What we found were chopped human bones, fragments of a skull and a bloodstained chunk of ice," an unnamed investigator told Komsomolskaya Pravda newspaper. "It's clear that this person did not die of his own accord."
Now after facing the most extreme elements imaginable, Abdullaev and Gradulenko are going head-to-head with the legal system as a criminal case into suspected murder has been opened.
Adding to the mystery is the revelation that the fishermen from the Russian Far East escaped from a hospital and disappeared after police interrogated them before they could receive proper medical attention after suffering extreme hunger and frostbite.
Article continues below advertisement
They claimed to have stayed alive during the three month odyssey by stumbling upon hunters' houses and borrowing food and clothes, or frying up animal skin and eating sawdust moss for nutrition, but many believe they resorted to the delicacy of human flesh instead.
Questions have even been raised as to whether they were even expert fisherman – in which case they could have caught their food in the abundant waters – and one theory is that they were in fact amateur gold diggers.