Locked Up Abroad Gulag Style! Inside The Unbelievably Harsh Conditions Of Russia's Labor Camps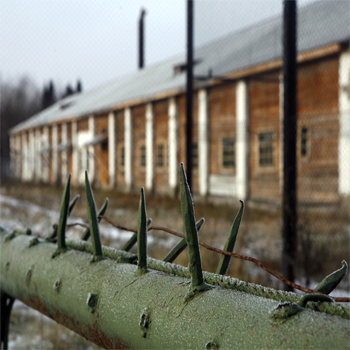 Going to the bathroom outside when it's -4 degrees. Only seeing your children two to four times a year. Bathing just once a week. And vying with dozens of other prisoners one hour a week to use one of two phone booths to call home.
This is just a little insight into the harsh reality of life inside Russian's modern day labor camps, known under Stalin as gulags.
And these are the conditions that two members of the band Pussy Riot will face when they arrive at two of Russia's most notorious penal facilities.
Article continues below advertisement
In August, a judge convicted Maria Alyokhina, 24, and Nadezhda Tolokonnikova, 22, of "hooliganism" for performing in a Moscow cathedral.
As RadarOnline.com previously reported, both received a two-year sentence and this week they were put on trains to separate camps in the remote areas of Mordovia and Perm.
Svetlana Bakhmina, a lawyer who spent four years in one such camp after being convicted of embezzlement, reveals the harsh realities of life as
"From the moment you stepped into the train, you were no longer recognized as an equal human being – the system treats you as a second-class person," she tells the Daily Beast.
"They make you jump out of a prison vehicle into the train's door. You fly with all your bags over about a 3 feet gap while guards with dogs stand on the ground watching you."
Tolokonnikova will serve her time in the Mordovia colony FGU IK-14 that was once Bakhmina's home. According to the lawyer, the train journey takes about two days and two nights.
Article continues below advertisement
Kept in crowded cages, she says the women are only allowed to use the bathroom twice. The rest of the time they have to improvise.
Bakhmina told BBC News that the facility is like a "tough, Soviet-style camp." She said: "The inmates were all housed in two big army-style barracks – there were anywhere between 50 and 100 people in each one.
"The barracks were built in the Soviet times – I guess in the 1920s."
While each barrack is furnished with rows of bunk beds, a nightstand and a stool, the bathroom facilities are dire.
She says: "There is also a toilet but you cannot use it as there is no central sewage system. We used to go outside to the so-called 'hole', sometimes when it was -20C -4 degrees in the winter."
Woken at 6 a.m. the women have to exercise outside – even in freezing conditions – before doing their daily chores.
Article continues below advertisement
Both Alyokhina and Tolokonnikova are moms of young children but communication with loved ones will be limited according to insiders. Inmates can only see their families two to four times a year during three-day visits.
Meanwhile each unit is only given an hour a week to call home. Bakhmina remembers vying with dozens of women to use one of two phone booths to talk to her young sons.
The picture the lawyer presents is a gloomy one – of being locked up with murderers and facing a constant threat of violence.
She says: "The administration was very strict with us – rumors of beatings circled around the colony, although I didn't witness any personally.
"More often there were fights between the inmates themselves."
Perhaps the biggest threat the inmates face is a psychological one.
Bakhmina says: "There was no torture…but anyone disobeying the prison rules would be punished by getting sent to 'shiza' Russian abbreviation for 'schizophrenia' – a solitary cell."