Russian Punk Band 'Pussy Riot' Sentenced To Two Years In Prison For Protesting Putin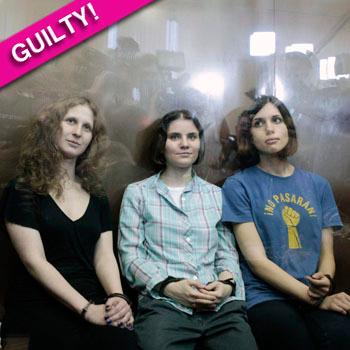 By Debbie Emery - RadarOnline.com Reporter
Three members of the Russian punk band Pussy Riot were sent to prison for two years on Friday for their protest against President Vladimir Putin.
The harsh sentence is being seen by many as a blow to the freedom of expression in the eastern European country and caused outrage among supporters who are calling it the Kremlin leader's "personal revenge," reported Reuters.com.
Article continues below advertisement
Protesters of ruling chanted "Shame" outside the Moscow courthouse and said the case showed Putin's refusal to tolerate dissent. The trio have also received an outpouring of support from musicians and celebrities around the world including Madonna, Paul McCartney and Sting.
Nadezhda Tolokonnikova, 22, Marina Alyokhina, 24, and Yekaterina Samutsevich, 30, took the bad news in a lighter manner and giggled as the judge read out their sentences after they were found guilty on charges of hooliganism committed by a group of persons motivated by religious hatred. Having already served five months already, they each have another 19 to go.
The group performed what they call a "punk prayer" on February 21 in Moscow's Russian Orthodox Christ the Savior Cathedral, which they sneaked in front of the iconostasis—a screen that separates the sanctuary from the rest of the church - dressed in brightly colored dresses and wearing balaclavas. They danced, jumped, and shouted some words to their song, "Virgin Mary, Get Putin Out," before being forcibly removed.
Article continues below advertisement
Video footage of their protest later went viral, with a montage of the song sliced in that criticizes the Russian Orthodox Church's alleged close relationship with the Kremlin and the personal close relationship of Putin with the patriarch of the Russian Orthodox Church.
Pussy Riot supporters claim the harsh sentence is part of a wider crackdown by the former KGB spy to crush their protest movement. "They are in jail because it is Putin's personal revenge," Alexei Navalny, a protest organizer told reporters outside the court. "This verdict was written by Vladimir Putin."