'Solitary Confinement In America Is Worse Than Iran,' Says Former Imprisoned Hiker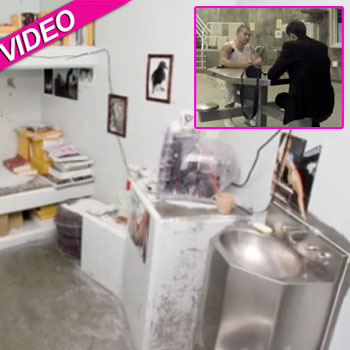 After being locked up in an Iranian prison isolation ward for 13 months, Shane Bauer said he only really experienced the true horror of confinement when he visited a prison in California!
In an eye-opening article for Mother Jones magazine, the former political prisoner compares the hardship of the two penitentiaries, with startling results.
As RadarOnline.com previously reported, Bauer was arrested along with companions Sarah Shourd and Joshua Fattal on July 31, 2009 for allegedly crossing into Iran while hiking near the Iranian border in Iraqi Kurdistan. They were accused of being spies and charged with espionage.
Article continues below advertisement
Bauer and Fattal were sentenced to eight years each but were finally released in September 2011 in a $930,000 bail-for-freedom deal, following an outcry from international figures including President Barack Obama, Desmond Tutu, Ashton Kutcher and rapper Big Sean.
Seven months after he won his freedom, Shane, now 30, visited Northern California's Pelican Bay State Prison and was shocked to discover that the serious criminal offenders were kept in conditions he said were worse than those at Evin Prison in Iran.
"Do I point out that I had a mattress, and they have thin pieces of foam; that the concrete open-air cell I exercised in was twice the size of the 'dog run' at Pelican Bay, which is about 16 by 25 feet; that I got 15 minutes of phone calls in 26 months, and they get none," revealed Bauer.
"There was a window. Just having that light come in, seeing the light move across the cell, seeing what time of day it was…
Article continues below advertisement
"When, after five weeks, my knees buckled and I fell to the ground utterly broken, sobbing and rocking to the beat of my heart, it was the patch of sunlight that brought me back," he wrote.
In Pelican Bay, which holds dangerous inmates deemed a threat to security at California's other 33 prisons, there are no windows and 94 per cent are kept alone.
There are eight cells (that are a little over 11 by 7 feet) in each pod, all of which are overlooked by a guard with a rifle who communicates with prisoners through a loudspeaker. Apart from being released into the dog run for an hour's exercise each day, the men eat in their cells and if they ever leave the pod they are stripped naked, pass their hands through a food slot to be handcuffed, then wait for the door to open and be bellycuffed.
Keeping inmates segregated does not come cheap. Pelican Bay spends at least 20 percent more to keep an inmate in isolation - an extra $12,317 per prisoner – or $14 million annually.
The full article is in the November/December issue of Mother Jones magazine. Shane and his fellow hostages, Sarah (his now wife) and Josh are writing a book about their captivity that is set for release in 2014.
RELATED STORIES: