Shocking Crime: New York Nanny Kills Children, Ages 6 & 2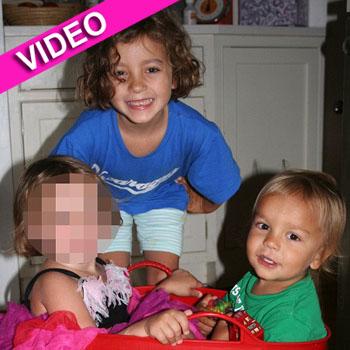 A Manhattan nanny allegedly killed two children she was taking care of before unsuccessfully trying to slit her own throat, RadarOnline.com is reporting.
The nanny, Yoselyn Ortega, 50, repeatedly stabbed 6-year-old Lucia Krim and her 2-year-old brother Leo, and left them to die in the bathtub of their family's Upper West Side apartment late Thursday, police said.
Marina Krim, the children's mother who documented the family's ongoings in a blog, learned of the horrific news when Ortega and the kids didn't show up to meet her and the family's other child, 3-year-old daughter Nessie, at a swimming lesson.
Article continues below advertisement
When Marina returned home, she shouted, "Something happened to my kids!"
Neighbor Rima Starr told the NY Times she heard "bloodcurdling screams from a woman."
Another neighbor, Herbert Klein, said he heard Marina "crying out, 'What am I going to do with the rest of my life? My life is ruined. I have no children, I have no children!'"
The two children were later pronounced dead at St. Luke's Hospital. Family father Kevin Krim, an exec for CNBC, was told of the tragedy as he returned home from a business trip Thursday, and was taken to join the family at the hospital.
Watch the video on RadarOnline.com
Comcast and NBC Universal said in a statement Friday: "A member of the CNBC family has suffered an unimaginable loss. The sadness that we all feel for Kevin, Marina and their family is without measure. Our thoughts, prayers and unwavering support are with them all."
Ortega had worked for the family about a year, according to the children's grandmother Karen Krim. Police say she had no criminal record.
Article continues below advertisement
"How could she do something like that?" the grieving grandmother said. "The children were angels."
The nanny's niece Katherine Garcia told the paper, "This is just shocking -- she loved those kids -- I don't know what would make her do this."
Ortega is in critical but stable condition (and in police custody) at New York-Cornell Hospital.
Watch More News Videos at ABC | 2012 Presidential Election | Entertainment & Celebrity News