Pon De Palisades! Rihanna's Stunning New $12 Million Home: Take A Peek Inside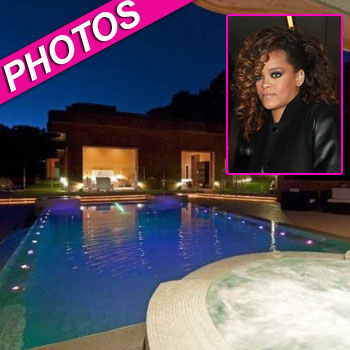 Rihanna might have found love in a hopeless place, but her new home is anything but.
The pop singer recently dropped $12 million on an absolutely stunning home in the exclusive Pacific Palisades area of Los Angeles, and RadarOnline.com has pics of her pricey pad.
However, it seems Rihanna, 24, may be having some trouble settling into her new abode, cryptically tweeting on Tuesday: "I literally wake up every morning at 5:30ish and stare at my pool til the sun comes up! Just waiting! Is this my life."
Article continues below advertisement
Built in 2010, the magnificent 11,000 square foot home boasts seven bedrooms, nine bathrooms and 14-foot high ceilings with a full complement of amenities, including a pool, a spa and a bar.
It compliments the singer's Caribbean roots with simple architecture, sleek finishes, sandy walls and tile flooring.
An outdoor area boasts a BBQ bar and a sundeck, and there's parking spaces for 20 cars.
And, one thing that's sure to be an improvement on her last home? It's waterproof!
As RadarOnline previously reported, Rihanna was forced to list her last home at a fraction of the price she paid for it after discovering it was prone to severe flooding.
Rihanna is even suing the former owners on the grounds that an extensive remodeling they made before she bought the property left it prone to the flooding and it became waterlogged after a "moderate rainstorm" in January 2010.
However, the Umbrella singer won't even be warming up her new home over the holidays, as she's rented a $21.8 million beachside penthouse in her native Barbados to lay low over the wintertime.
Article continues below advertisement
And, it looks like chestnuts will be roasting for Rihanna and Chris Brown over the holidays.
Rihana has rented out One Sandy Lane, a $21.8 million beachside penthouse overlooking the Caribbean in her native Barbados, where she's expected to be joined by family members and Brown, locals tell Mail Online.
Besides RiRi and Breezy, the island is also expected to play host to a number of bigwigs in the music business, including the great Simon Cowell.
It's a fitting end to what has been a rebuilding year for the sometimes-couple, who have slowly moved their love affair back into the public spotlight nearly four years after he infamously beat her after a Grammy party in Los Angeles.
While Rihanna has clearly forgiven him - last month, she tweeted a photo of a half-naked Brown sleeping in a bed - the incident continues to haunt him with the public.