Rihanna And Chris Brown Get Cozy At A Party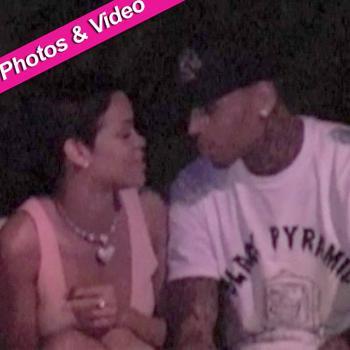 The Chris Brown and Rihanna saga continued on Saturday night when the two were spotted getting close at a Hollywood event.
The Good Girl Gone Bad took a break from recording her new album, Unapologetic, to support the singer at the launch of his new Internet channel on Qubeey.com. The party was held at a private residence in Beverly Hills.
Their behavior left little doubt that they are a couple again and RadarOnline.com has the video and photos to prove it.
Article continues below advertisement
According to other partygoers Rihanna and Brown were getting very cozy – hugging and even sharing a drink and a cigarette with each other.
At one point the lovebirds were spotted sitting on a sofa in the VIP section alongside comedian Brandon T Jackson.
Brown and Rihanna – who split in 2009 after he was convicted of beating her up – have made no secret of the fact that they have reconciled.
Over the past few weeks he has dumped his girlfriend Karrueche Tran and even released a video claiming to be in love "with two people."
Rihanna speaks about their relationship, and forgiving him for assaulting her, in the November issue of Vogue. She said: "The world hasn't let go. They haven't seen any progress in our friendship, because they don't see anything. But they're not on the inside."
In the meantime the singer has been posting cryptic messages on her Twitter page. On Friday she tweeted: "I found the one, he changed my life…But was it me that changed and he just happened to come at the right time? #UNAPOLOGETIC."