Rihanna: 'The World Hasn't Let Go' Of Chris Brown Incident, But I Have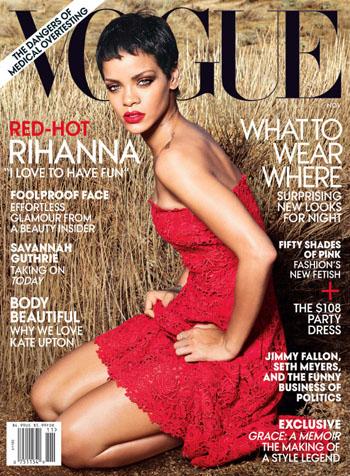 Rihanna, in an interview with November's Vogue, says society just doesn't understand what makes her relationship with Chris Brown tick, as it's too focused on rehashing the February 2009 incident in which he beat her senseless.
"The world hasn't let go," she said. "They haven't seen any progress in our friendship, because they don't see anything. But they're not on the inside. They can't see what I see, unless they're sitting in my point of view. I guess I'll learn to accept that."
Article continues below advertisement
She added she feels the world acts as if "there's no closure" in her relationship with Brown, and has harbored "an obsession that's continued even throughout when we weren't friends or couldn't be friends at all."
She said she didn't think Birthday Cake -- her duet with Brown earlier this year -- could be "anything detrimental" to her career.
"I was on a tour bus ride between two cities, listening to my album, thinking, 'Oooh, maybe I should make this into a duet,'" she recalled. "And I started coming up with a bunch of people, and his name crossed my mind. I thought, We haven't made a song in so long together... it could be a little shocking."
The Only Girl singer -- whose videos have more than 2.7 billion Youtube views -- also denies having instigated a brutal bar brawl between Brown, one-time love interest Drake and their respective entourages at a New York nightclub this past summer.
"I wasn't there," she said. "It had nothing to do with me."
As we previously reported, Brown received five years of probation, community labor and one year of domestic-violence counseling in connection with his beating of the S&M singer.