Chris Brown Sulks In New Video About Loving Rihanna AND Karrueche Tran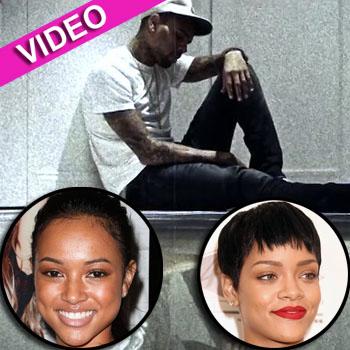 Chris Brown has good problems.
The convicted woman-beater claims to be in love with two unnamed (but fairly obvious) ladies -- Rihanna and model Karrueche Tran -- in The Real Chris Brown, a slick new video released online Thursday.
The admittedly-inebriated Forever singer mumbles in the clip, "When you share history with somebody, then you tend to fall in love with somebody else, it's kinda difficult. Is there such thing as loving two people? I don't know if that's possible, but for me, I feel like that.
Article continues below advertisement
"Y'all are probably like, 'What the f*** is he talking about right now?' But I'm just saying, I'm being real. I don't want to hurt either or. I'm not trying to be a player. I'm not trying to be a dog. None of that.
"My mama raised me differently. I just can't. It's too much sometimes."
While not named, both RiRi and Karrueche are seen in the actual clip.
Presumably in response to reports she and Brown are back together, Rihanna tweeted Thursday, "Ain't nobody bidness..... But mine and my baby!"
Karrueche tweeted after the video was released, "WTF is going on? All I'm saying is, you don't mess with people's genuine feelings. You just don't!"
Watch the video on RadarOnline.com
The singers shared a well-publicized kiss at the 2012 MTV Video Music Awards September 6, before Brown appeared with a tattoo that curiously resembles the Barbadian beauty.
As we previously reported, Brown received five years of probation, community labor and one year of domestic-violence counseling in connection with his beating of the S&M singer.