Exclusive
Chris Brown Accused Of Being Unable To Stay Faithful To Girlfriends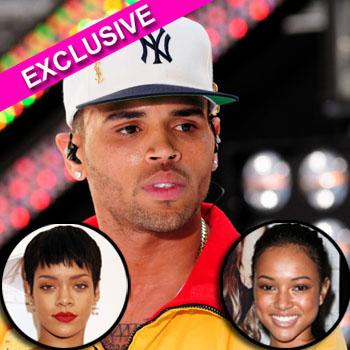 By Jen Heger - Radar Assistant Managing Editor
Grammy award winning singer Chris Brown is unable to stay faithful to girlfriends, including his ex-Rihanna, who he was caught canoodling with in a New York City club earlier this week, as his model girlfriend, Karrueche Tran, was holed up in a hotel, RadarOnline.com is exclusively reporting.
"Chris has been acting like a real dog lately by stepping out on Karrueche with Rihanna and Nicole Scherzinger in recent days," a source close to the situation tells Radar. "This is nothing new as far as Chris acts, but Karrueche has finally had enough and dumped him. Chris wants what he can't have though, and as soon as she dumped him, he began calling and texting her a lot.
Article continues below advertisement
"He said it was all lies and that he hadn't hooked up with Rihanna. Karrueche would respect him a lot more if he would just be honest with her. The night that Chris beat Rihanna they had been fighting about his alleged dalliances with other women, whom Rihanna referred to as his hos. Chris has major commitment and trust issues, and he should just stay single."
As RadarOnline.com previously reported, Rihanna and Brown were spotted making out recently in a New York nightclub. The rendezvous took place Monday night at hotspot Griffin, and an eyewitness said they were very affectionate.
"After leaving Rihanna's hotel, Chris was spotted going into Karreuche's hotel and they had yet another fight," the source says. "Chris keeps telling Karreuche he isn't cheating on her, but she just doesn't believe him. She is very angry at herself for getting into this situation. Karreuche truly believes that if Rihanna would leave Chris alone, they wouldn't have any problems."
The same day, the one-time couple reportedly hooked up, Chris tweeted, "Happiness is the one thing I'm never guaranteed..... How can U expect me to guarantee yours?"
Article continues below advertisement