Exclusive
Chris Brown's Girlfriend Karreuche Tran Dumps The Forever Singer!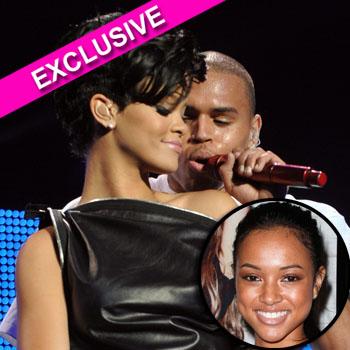 By Jen Heger - RadarOnline.com Assistant Managing Editor
Chris Brown's gal pal, model Karreuche Tran, has dumped the Grammy award winning singer after he was spotted getting cozy with both Nicole Scherzinger of the Pussycat Dolls and with his ex-girlfriend, Rihanna, RadarOnline.com is exclusively reporting.
"Karreuche finally had enough and dumped Chris for good. Karreuche and Chris had been on thin ice for a while, but after he was spotted getting with Nicole Scherzinger in a Los Angeles nightclub recently, and then when reports surfaced that he had hooked up with Rihanna - so she finally dumped him," a source close to the situation told us.
Article continues below advertisement
"Karreuche was very patient with Chris and never nagged him about what he had been doing whenever they were apart. She never went through his cell phone, but she suspected for a long time that he had been cheating on her for some time, she just never had the proof. They are both young, but she just couldn't tolerate being publicly humiliated anymore. The relationship was tumultuous and filled with drama, and she just had enough, and wants a healthy relationship," the insider added.
As RadarOnline.com previously reported, Rihanna and Chris Brown were spotted making out recently in a New York nightclub.
The rendezvous took place Monday night at hotspot Griffin with an eyewitness seeing them get very affectionate, E! was first to report.
After leaving Rihanna's hotel, Brown was spotted going to Karreuche's hotel in New York City and "the two had yet another fight. Chris keeps telling Karreuche he isn't cheating on her, but she just doesn't believe him. She is very angry at herself for getting into this situation. Karreuche truly believes that if Rihanna would leave Chris alone, they wouldn't have any problems," the source said.
Article continues below advertisement
The same day, the one-time couple reportedly hooked up, Chris tweeted, "Happiness is the one thing I'm never guaranteed..... How can U expect me to guarantee yours?"
Meanwhile, Tran tweeted, "there's a difference between a man and a boy, and i prefer men."
Brown is under scrutiny by a Los Angeles judge concerning the amount of community service hours the singer has performed in connection with his guilty plea for beating then-girlfriend, Rihanna. The 23-year-old is scheduled to be in court on November 1, to determine if a probation violation hearing will be scheduled because of other problems related to Brown's probation report.