Exclusive
Chris Brown Wishes Rihanna Would Stop Talking About Beating Incident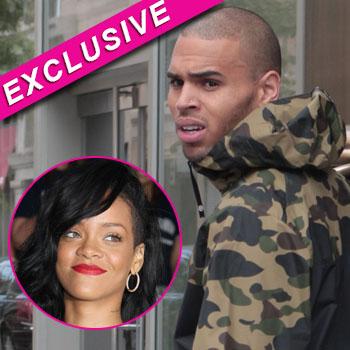 By Jen Heger - RadarOnline.com Assistant Managing Editor
Chris Brown is baffled by Rihanna's desire to keep talking about the brutal assault on the eve of the Grammys three years ago, that led to Brown pleading guilty to a felony battery charge, RadarOnline.com is exclusively reporting.
"Chris is just confused about Rihanna's decision to bring up the past again and again — this time in an interview with Oprah," a source tells RadarOnline.com. "Rihanna has previously given wide ranging interviews about the beating to Diane Sawyer and several print magazines. Chris just doesn't think it's productive or relevant to rehash the events since essentially nothing new is being revealed in the interview Rihanna has done with Oprah. Chris doesn't begrudge Rihanna at all for talking about it but he thinks that in order for them to both move forward and not be defined by that one night, it would be better to stop bringing it up."
Article continues below advertisement
As previously reported, Rihanna admits in her upcoming interview on Oprah's Next Chapter that she felt "protective" over Brown and was more concerned with his well-being than her own in the wake of the 2009 incident.
"It was embarrassing, it was humiliating," the sobbing Umbrella singer told Oprah about the fallout. "I lost my best friend -- everything I knew switched -- switched in a night and I couldn't control that … it's not easy for me to interpret -- it's not easy to interpret on camera with the world watching."
"Rihanna and Chris have spoken since she did her interview with Oprah," the insider reveals. "They have a very complicated and intense relationship even though Chris has a girlfriend. The fact is, Chris and Rihanna just can't stay away from each other. There is a lot of love there -- it's definitely not a healthy situation for either one of them."
Right after the incident -- amid reports RiRi and Chris had briefly reunited -- Oprah famously took to the air to warn the Barbadian Beauty, "If a man hits you once, he will hit you again!"