Rihanna Cries To Oprah: 'I Was More Concerned About Chris Brown'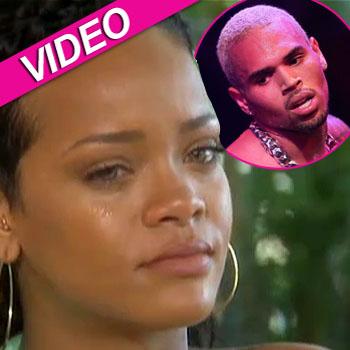 Despite the brutal beating she endured at his hands, Rihanna admits in her upcoming interview on Oprah's Next Chapter that she felt "protective" over ex Chris Brown, and was more concerned with his well-being than her own in the wake of the 2009 incident.
"It was embarrassing, it was humiliating," the sobbing Umbrella singer told Oprah Winfrey about the fallout. "I lost my best friend -- everything I knew switched -- switched in a night, and I couldn't control that … it's not easy for me to interpret -- it's not easy to interpret on camera with the world watching."
Article continues below advertisement
The S&M singer, 24, said she felt "protective" over her violent ex after he was demonized in the media for the shellacking, adding that the timeframe "was a weird, confusing" period in her life.
"Because as angry as I was -- as angry and hurt and betrayed -- I just felt like he made that mistake because he needed help. And who's going to help him?
"Nobody's going to say he needs help, everybody's going to say he's a monster, without looking at the source. And I was more concerned about him."
Watch the video on RadarOnline.com
The hot-headed Brown received five years of probation, community labor and one year of domestic-violence counseling in connection with the vicious beating. His career initially stumbled, but has recovered since the incident, as he collected a Grammy this year.
Right after the incident -- amid reports RiRi and Chris had briefly reunited -- Oprah famously took to the air to warn the Barbadian Beauty, "If a man hits you once, he will hit you again!"
Oprah's Next Chapter featuring Rihanna on Sunday, August 19 at 9/8c on OWN.