Rihanna Surprises Oprah: 'I Thought She'd Be A Bad-Ass'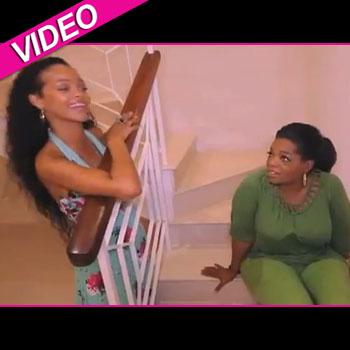 Rihanna might be risking her risque image in her upcoming interview on Oprah's Next Chapter, as the media legend says she was genuinely surprised after getting to know the stunning singer in her native Barbados.
"I thought she would have been kind of a bad-ass kind of a rocker hard-edge woman -- nothing could have been farther from the truth," Oprah Winfrey said. "She was thoughtful … she was very emotional … she was vulnerable."
Article continues below advertisement
"She pushes the edge -- she pushes the edge a lot, and there's a reason for that."
In a clip from the exchange, the S&M singer, 24, says she's "super-duper afraid of the pedestal that comes from fame," and admits to going through spells of intense loneliness.
At one point, Oprah tells the brazen beauty, "You seem to have a liking to the F-word," eliciting a laugh from the Birthday Cake singer.
Fans of the pop star have undoubtedly seen major changes in both Rihanna's image and her music in her transition from a fresh-faced up-and-comer to a super-sexy superstar over the past seven years. This week, she lost a contract with Nivea amid fears her act was too racy for a mainstream marketer.
While there was no mention of the infamous beating she took at the hands of ex Chris Brown in 2009, we certainly don't expect Oprah to ignore it: Right after the incident, amid reports RiRi and Chris had briefly reunited, Oprah took to the air to warn her, "If a man hits you once, he will hit you again!"
Oprah's Next Chapter featuring Rihanna airs on Sunday, August 19 at 9/8c on OWN.