Chris Brown And Drake Slapped With $16 Million Lawsuit Over Nightclub Brawl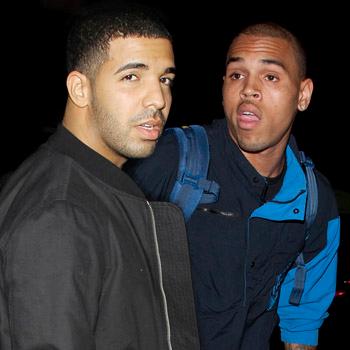 By Debbie Emery - Radar Reporter
R&B rivals Chris Brown and Drake were hit with more fallout Wednesday from their infamous bottle-throwing brawl in a Manhattan nightclub when they were both named in a $16 million lawsuit.
In papers filed at Manhattan Supreme Court, Entertainment Enterprises Ltd. claims the two stars started the fracas at the joint clubs Greenhouse and WiP on June 14, and then ordered their crews to follow suit, reported the New York Post.
Article continues below advertisement
Each man "shared a grudge against the other arising out of their romantic relationships with the same woman," Brown's former girlfriend Rihanna, and when they "crossed paths," they "began to fight violently with each other," the suit states.
As RadarOnline.com previously reported, the fight broke out in the early hours of the morning and left the nightclub virtually destroyed and seven people injured, including NBA star Tony Parker.
After the fight, Brown tweeted a photo of himself with a bloody gash on his chin saying, "How u party wit rich n**** that hate? Lol... Throwing bottles like girls? #shameonya!."
The lawsuit states that while the club made sure nobody in their camps was armed, "each arrived with his own small army of bodyguards… consisting of at least 15 heavily built men trained and/or experienced in hand-to-hand and weapons combat."
Article continues below advertisement
Once the pair started fighting all hell broke lose as, "each ordered his security personnel, bodyguards, friends and entourage to join the fight, which erupted into a violent brawl on a massive scale."
Their crews "fashioned deadly weapons out of whatever materials they could find, including glasses, alcohol bottles and furniture, thereby circumventing the nightclubs' extensive efforts to ensure a safe environment."
It claims that both Drake and Chris encouraged their crews to start "throwing highball glasses laden with alcohol, shattering the handles of bottles of spirits to use as makeshift knives, and even throwing full bottles at each other. Within seconds, defendants filled an already packed nightclub full of flying glass shrapnel."
Eva Longoria's ex-husband and San Antonia Spurs player Parker is already suing Greenhouse and WiP for $20 million, claiming he suffered a scratched retina that could affect his basketball career.