Drake, Not Chris Brown, Started Nightclub Brawl Says Eyewitness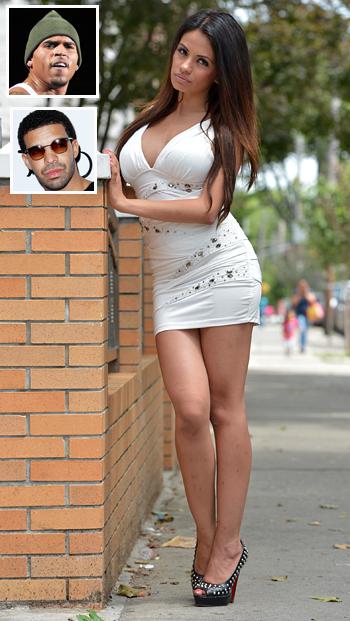 Ingrid Gutierrez and a few of her girlfriends arrived at W.I.P. nightclub at 3 am Thursday, just wanting to have some fun. It turned into anything but as the stunning brunette ended up in the middle of the Chris Brown-Drake bar brawl.
The club was so crowded, the 21-year-old became separated from her friend before she bumped into an acquaintance who was there with Chris Brown.
The next thing Ingrid knew, she was sitting with Brown and his entourage and being poured $2,000 a bottle Ace of Spades champagne.
Article continues below advertisement
"They were all so nice," Ingrid told The New York Post. "We were having such a good time. I was talking to my girlfriends, and I talked to Chris a little bit. I also talked to his bodyguard Big Pat."
Everything went well until 4 am, when what seemed like a generous gesture on Brown's part turned everything on its head. The rapper, said Ingrid, asked a waitress to send a bottle of the Champagne to Drake's table. She returned with a piece of paper that Brown looked at and threw onto the floor.
The Post reports that it turned out to be the taunting Rihanna-referencing note that read, "I am f--king the love of your life," sources have said.
Drake and a group that included rapper Meek Mill and their bodyguards then strutted over to Brown's table.
"They got up in his face and were giving him the middle finger. Chris told Drake to f--k off, and the next thing I heard was smashed glass and the bottles started flying at us," Ingrid said.
Article continues below advertisement
Someone threw a punch at Brown but was blocked by Big Pat — who suffered a big gash in his head.
"I didn't see Chris act violently towards anyone," she said. "Chris said, 'Let's go,' but there were bottles flying and I saw him get hit in the face, so I hunkered down where I was."
Her account supports what was previously reported by RadarOnline.com about Drake and his entourage being the instigators of the brawl.
Gutierrez ended up being hit in the head with a bottle. A friend rushed her to NYU Medical Center where it took five staples to close the wound.
"I think Drake's entourage are cowards for throwing bottles at girls," she said. "I've lost all respect for Drake. Chris Brown acted like a gentleman to all the girls there. Chris tried to protect me and my friend."
RELATED STORIES:
Witness: Drake's 'Terrifying' Entourage Started The Brawl With Chris Brown