Club Where Chris Brown-Drake Brawl Took Place Hit With 14 Violations, Could Be Shut Down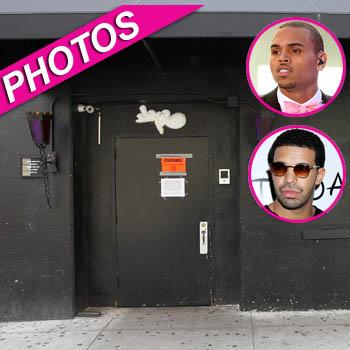 The New York State Liquor Authority has filed 14 charges against the nightclub where Drake and Chris Brown's entourages got into a bloody throw-down over Rihanna — and the place could soon be shut down, The New York Post is reporting.
The charges against W.i.P., and the Greenhouse club where it's located, include one count of not stopping the June 15 brawl, seven charges for other fights, and other counts regarding drug-related incidents.
Article continues below advertisement
"They're absolutely in jeopardy of losing their licenses," State Liquor Authority spokesman William Crowley told The Post. "They have a number of prior charges, too, so that comes into play when we're looking at taking action."
As RadarOnline.com previously reported, the June 15 brawl started when Brown sent a bottle of Champagne to Drake, and he sent back a note claiming he was '"f**king' Rihanna. Brown tossed the note to the floor, Drake came over and stared Brown down, and then Drake's posse allegedly started the bottle-throwing battle that ended with several people in the hospital.