NBA Star Tony Parker Sues Venue Of Drake-Chris Brown Brawl For $20 Million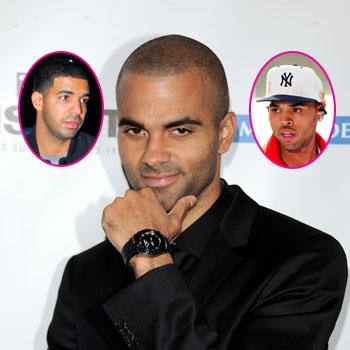 San Antonio Spurs guard Tony Parker filed suit in New York's State Supreme Court against New York's WIP nightclub Thursday, claiming he suffered a scratched retina after the SoHo club was negligent in securing the venue during last week's brawl between Drake, Chris Brown and their entourages.
The ex-husband of Desperate Housewives beauty Eva Longoria claims he was hit with broken glass as result of the melee, causing damage to his eye.
Article continues below advertisement
Longoria's former hubby said the injury could hinder his lucrative career in the NBA -- and that club officials should have not let the dueling factions in the same place at the same time.
As we previously reported, an eyewitness says the bad blood began to flow when Brown sent Drake's table a bottle of Armand de Brignac Champagne, and the bottle was returned to Brown with a note that read, "I am f--king the love of your life" -- likely referring to Drake's relationship with Brown's ex Rihanna.