Kaley Cuoco: Where Are Britney & Lindsay's 'Normal Friends?' Why Doesn't Someone Tell Them, 'Wear Underwear!'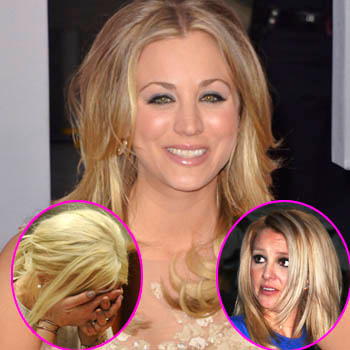 Article continues below advertisement
"My parents are pretty normal and I've had the same best friend my whole life, so I'm seminormal," the 27-year-old explains.
"I look at Lindsay and Britney and think, 'Where are their normal friends and family?' Why doesn't someone say to them, 'If we go out, wear underwear'?"
Though Cuoco, who called off her engagement to her addiction specialist beau, Josh Resnik, in March of this year considers herself to be pretty sane, she says she doesn't try and hold back her emotions.
"I cry all the time. I love to laugh, too," she says. "It's important to create an environment for yourself where you feel what you need to and don't hold it in. Today, I'm comfortable enough in my own skin that I can laugh or cry when I need to, and it feels so good."
As RadarOnline.com previously reported, Cuoco also opened up in the interview about her body insecurities, eating and exercise habits.
Article continues below advertisement
"I judge myself all the time," she admits. "It takes a huge effort to look this way, and I still think I could lose 5 pounds! Unless you're Gisele, you wake up some days and feel ugly. When that happens, I accept that I'm not perfect and it's OK; I can start over again tomorrow."
"I start the day with oatmeal with vanilla almond milk. If I don't, I'm dying by noon and eating everything in sight," she reveals. "On set, I avoid crap and pack soup and salad. I cook pork chops or turkey tacos for dinner."