Big Bang, Hot Body Theory! Kaley Cuoco Reveals All Of Her Stay-Fit & Keep Thin Secrets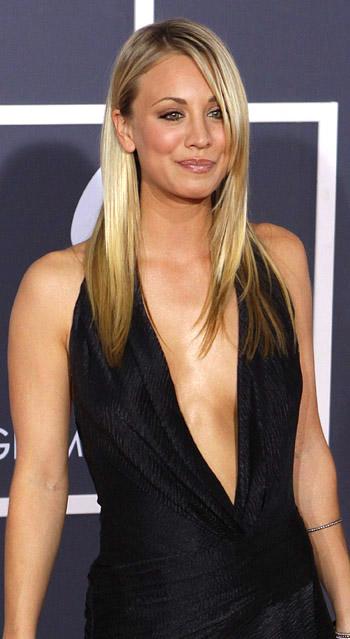 Unlike other Hollywood stars, Kaley Cuoco doesn't have to starve herself to stay sexy!
The Big Bang Theory babe, who recently flirted up a storm with Mila Kunis' main man, Ashton Kutcher courtside at a Lakers game, reveals the secrets to her hot body in the January 2013 issue of SELF – and RadarOnline.com has the details.
"I judge myself all the time," she admits. "It takes a huge effort to look this way, and Istill think I could lose 5 pounds! Unless you're Gisele, you wake up some days and feel ugly. When that happens, I accept that I'm not perfect and it's OK; I can start over again tomorrow."
Article continues below advertisement
"I start the day with oatmeal with vanilla almond milk. If I don't, I'm dying by noon and eating everything in sight," she reveals. "On set, I avoid crap and pack soup and salad. I cook pork chops or turkey tacos for dinner."
However, Kaley, who admits that she swears by Spanx and refers to them as her "favorite thing in the world" doesn't deprive herself of guilty pleasures, but makes up for her indulgences by breaking a sweat.
"I can eat a whole pepperoni pizza and a few beers on my own. That's why I work my ass off at the gym!" she says.
As for her workout regiment, the 27-year-old loves to spin away the calories.
"Spinning changed my body. My legs are severely toned, and you get an ab workout," she gushes.
She also enjoys equestrian activity, even though she claims that she almost lost her leg from riding a few years ago!
Article continues below advertisement
"I took my first riding lesson at 15, and I've ridden almost every day since. Two years ago, I fell off my horse and crushed my leg," she says.
"Before surgery, I had to sign a contract saying it was OK if they had to amputate! When I awoke with my leg, I was so happy. I was back on the horse while the cast was still on. I have four horses and they are my everything. I was determined not to lose that. I am a little more careful now!"