While Mila's Away! Ashton Kutcher Cozies Up To Kaley Cuoco At Lakers Game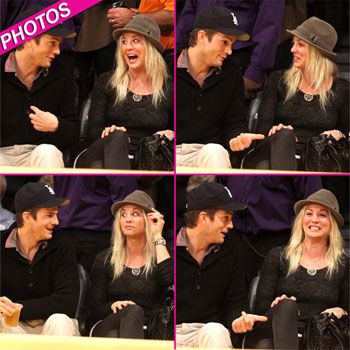 Ashton Kutcher may be dating Mila Kunis, but that doesn't mean he can't put on the charm and flirt with a gorgeous girl!
The 34-year-old actor, who recently returned from a romantic Rome rendezvous with his That 70s Show girlfriend, enjoyed an evening sitting courtside at the Los Angeles Lakers game next to The Big Bang Theory star Kaley Cuoco, and apparently seemed to be thoroughly enjoying her company, and RadarOnline.com has the photos.
Article continues below advertisement
Sipping on a beer, the Two and a Half Men star appeared to be paying more attention to the blonde beauty than the game itself, engaging in constant conversation with the 26-year-old and her mother.
The two appeared to get along beautifully, spending the evening smiling and laughing as the Lakers lost to the Indiana Pacers 79-77.
Coincidentally, Chuck Lorre produces both Two and a Half Men and The Big Bang Theory, so Ashton and Kaley have more in common than just their love of the Lakers.