Angus T. Jones Apologizes To Colleagues Over Two and a Half Men Rant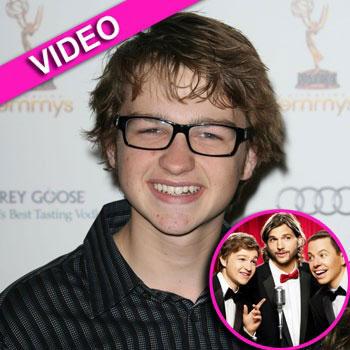 Two and A Half Men star Angus T. Jones apologized on Tuesday for his out-of-nowhere rant against the program, saying that he didn't mean to rub his co-workers the wrong way.
"I apologize if my remarks reflect me showing indifference to and disrespect of my colleagues and a lack of appreciation of the extraordinary opportunity of which I have been blessed," he said. "I never intended that.
Article continues below advertisement
"I grew up around the show and its' crew and know that the time they spent with me was in many instances more than with their own families. I learned life lessons from so many of them and will never forget how much positive impact they have had on my life."
As we previously reported, the 19-year-old actor went on a bizarre rant bashing his own program during a testimonial he filmed for the Forerunner Christian Church.
Claiming it's off-color humor is damaging to viewers, Angus groused, "If you watch Two and a Half Men, please stop watching Two and a Half Men ... I'm on Two and a Half Men. I don't want to be on it. Please stop watching it. Please stop filling your head with filth."
Naturally, the incident brought back memories of Charlie Sheen's unprecedented rebellion against show creator Chuck Lorre last year, leading to his firing, and both addressed Angus' outburst publicly.
Article continues below advertisement
"With Angus' Hale-Bopp-like meltdown," Sheen told People, "it is radically clear to me that the show is cursed."
Lorre, through one of his trademark vanity cards, commented Monday that "If...you were able to sincerely change your mind and see that we are all God in drag, that we are the conscious aspects of a perfect universe which had to create us so we could bear witness and stand in awe before its loving magnificence, then that is the soul-shaking reality you'd be greeted with each and every moment of each and every day."