Exclusive
Demi Moore's Daughters Begging Her To Get Over Ashton Kutcher & Move On With Life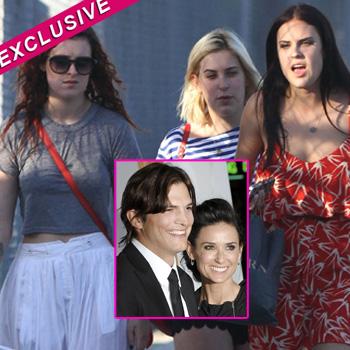 Article continues below advertisement
"Demi just can't let go of Ashton despite him obviously moving on from her, and her daughters don't think it's healthy or helpful for her," a source close to the girls exclusively told RadarOnline.com.
"They are begging her to get over Ashton and move on with her life!"
As RadarOnline.com previously reported, after Demi's trip to rehab her daughters were unhappy with how she continued to deal with her problems, and their relationship rapidly began to fall apart.
They tried to mend fences recently, but according to the source things are turning sour once again.
"All three girls want her to divorce Ashton and stop talking about him, they think that she needs to focus on the future and quit worrying about what he is doing," the source says.
The photos of Ashton and Mila together have been a source of pain for Demi, who complains about their relationship to her daughters.
Article continues below advertisement
"Demi refuses to let it go, and her daughters are trying everything they can to get through to her that things are over with Ashton," the source says. "They love their mom but they want her to stop talking about Ashton!"
As RadarOnline.com exclusively reported, Demi is trying every trick in the book to delay her divorce from Ashton as she is furious her husband of six years has moved on so quickly and is now happily dating Mila.
MORE ON:
Celebrity Justice
"Demi has instructed her attorneys to delay negotiations as much as possible," a close source previously told RadarOnline.com. "The main issue they have been fighting over has been the division of assets and the monetary settlement, but it's now gotten to the point where Ashton is willing to cave in to all of Demi's demands just to reach a settlement.
"However, Demi is totally playing hardball and every time they come close to reaching an agreement she throws up another objection or demand.
Article continues below advertisement
"It's driving Ashton nuts as he just wants to close that chapter of his life and move on, he and Mila are VERY serious about each other and although another marriage isn't going to happen immediately it is definitely something both Ashton and Mila have discussed and believe is in their future."
Meanwhile, the source said that Demi's obstructionist tactics are causing yet another rift with her three daughters.
"Rumer, Scout, and Tallulah have all remained close to Ashton and they have completely come down on his side," the source said. "Rumer especially is really annoyed at her mother for dragging things out and probably thinks she is behaving like a total b*tch.
"As far as the girls, and Ashton, are concerned everyone needs to move on with their lives and this whole fiasco has been going on for way too long. However, Demi sees things differently and she cannot forgive Ashton for moving on so quickly to Mila and flaunting their relationship publicly. It's a classic case of a woman scorned."