Ashton Kutcher And Demi Moore: Fight Over Money In Divorce Settlement Could Become 'Public Battle'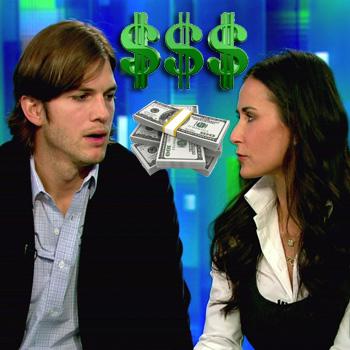 Demi Moore and Ashton Kutcher have been separated for more than a year and although neither has yet filed for divorce, they've been privately working towards their financial settlement.
But according to a new report, the former couple may be headed for a public court battle over money.
Lawyers for both are "trying to negotiate a settlement out of court and out of the public eye," sources have told The New York Post.
Article continues below advertisement
However, there are indications that the divorce could become acrimonious because Kutcher – the highest paid actor on TV -- is allegedly unwilling to give his ex a huge payout.
"They still haven't reached an agreement over money, because Ashton earned substantially more during the final years of their marriage," a source tells The Post.
"But he doesn't want to pay a large settlement."
If the negotiations drag on for much longer, another source says, "The discussion could boil over into a public court battle."
Rumors that the former couple has been butting heads over money have been rumbling for a few weeks.
As RadarOnline.com previously reported, an insider has accused Kutcher, 34, of being "cheap" even though he earns a massive $24 million a season for Two and a Half Men.
The actor is currently dating his former That 70s Show co-star Mila Kunis.
And despite reports that she is devastated by her estranged husband's new romance, Moore, 49, looked radiant at a New York charity event on Wednesday night.