Romantic Reunion? Former Costars Ashton Kutcher And Mila Kunis Enjoy A Weekend Away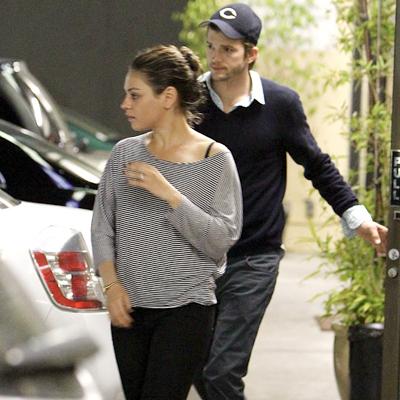 By Debbie Emery - Radar Reporter
Ashton Kutcher appears to be rebounding from his break-up with Demi Moore into very familiar territory, with his longtime friend and former costar Mila Kunis.
Looking decidedly more than just Friends With Benefits, the couple escaped on a three-day getaway last weekend to the romantic coastal town of Carpinteria, Calif., reported People.com.
The pair, who met on the set of the That 70s Show in 1998, drove up from Los Angeles to the beach haven, which is just south of Santa Barbara on Thursday, then spent the next day enjoying a laid back sushi lunch, before being spotted at a roadside fruit stand.
Article continues below advertisement
While reps on both sides have denied that there is any romantic liaison, a source told People that the Two And A Half Men star has had a soft spot for Kunis ever since they played on screen couple Kelso and Jackie on the Fox sitcom.
"He was so in love with her for a while when they worked together," revealed the insider. "He thought she was a goddess, was always talking about how beautiful she is. But she was with Macaulay (Culkin) for a lot of that time and also just generally gave off a not interested vibe."
X17online was first to report that Kunis and Kutcher were getting cozy. A photographer who spotted the two together enjoying a sushi dinner at Asanebo in Studio City on April 15, told the website: "Ashton was touching Mila's hand and Mila was all dressed up. She looked hot; this was definitely more than a dinner between friends -- this was a full-on date!"
As Kutcher enjoys playing the field, his ex-wife is not coping so well and looked desperately thin when she made her first post-rehab public appearance last week.