Exclusive
Demi Moore Is Delaying Divorce, Furious Ashton Kutcher Has Moved On With Mila Kunis, Says Source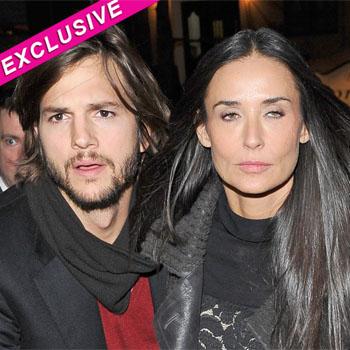 Article continues below advertisement
"Demi has instructed her attorneys to delay negotiations as much as possible," a close source tells RadarOnline.com. "The main issue they have been fighting over has been the division of assets and the monetary settlement, but it's now gotten to the point where Ashton is willing to cave in to all of Demi's demands just to reach a settlement.
"However, Demi is totally playing hardball and every time they come close to reaching an agreement she throws up another objection or demand.
"It's driving Ashton nuts as he just wants to close that chapter of his life and move on, he and Mila are VERY serious about each other and although another marriage isn't going to happen immediately it is definitely something both Ashton and Mila have discussed and believe is in their future.
Meanwhile, the source says that Demi's obstructionist tactics are causing yet another rift with her three daughters, who she only recently reconciled with after a lengthy and bitter estrangement
Article continues below advertisement
"Rumer, Scout and Tallulah have all remained close to Ashton and they have completely come down on his side," the source says. "Rumer especially is really annoyed at her mother for dragging things out and thinks she is behaving like a total b*tch
"As far as the girls, and Ashton, are concerned everyone needs to move on with their lives and this whole fiasco has been going on for way too long. However, Demi sees things differently and she can not forgive Ashton for moving on so quickly to Mila and flaunting their relationship publicly. It's a classic case of a woman scorned."