Exclusive
Demi Moore & Daughters Fight Started Over Ashton Kutcher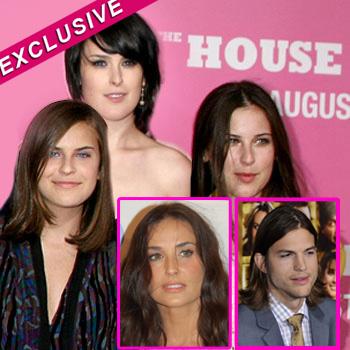 Article continues below advertisement
"The girls have all stayed friends with Ashton, and that is infuriating Demi," a source close to the girls told RadarOnline.com about the situation.
As RadarOnline.com previously reported, Demi has not been spotted in public with her daughters in months.
"Ashton cheating on Demi humiliated her, and when she got out of the relationship she thought she was setting a good example for her daughters, so when they stayed close to Ashton it devastated her."
After Ashton was caught cheating on their sixth wedding anniversary, Demi tried to make their marriage work but announced in November that she was leaving her husband.
"As a woman, a mother and a wife there are certain values and vows that I hold sacred, and it is in this spirit that I have chosen to move forward with my life," she said at the time.
However, Ashton has remained active in the lives of all of his step-daughters, attending concerts that they've performed in and supporting them through their mother's substance abuse troubles, and this has caused Demi to become enraged with her daughters.
Article continues below advertisement
"She doesn't understand how they could stay close with Ashton after he humiliated her and she's asked them to stop talking with him but they refuse," the friend said.
"Demi can't let that go and can't get over it, so she constantly attacks the girls for staying friends with Ashton. They've had it with her over that."
RELATED STORIES:
Distraught Demi Moore 'Beside Herself' Over Estrangement From Daughters