Exclusive
Demi Moore Hasn't Been Spotted With Daughters In Months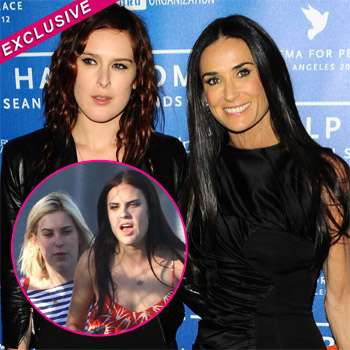 By Alexis Tereszcuk - Radar Entertainment Editor
Demi Moore was once so close to her daughters that she even went to night clubs with them, but since she returned from rehab they haven't been photographed together and sources close to the family have exclusively told RadarOnline.com that the girls' relationship with their troubled mother is at breaking point.
The last time Demi was photographed with one of her daughters was on January 14, when she and Rumer Willis attended the Friends Cinema for Peace event in Los Angeles and posed for pictures on the red carpet.
Article continues below advertisement
Just nine days later Demi had a seizure at her home and collapsed, she was rushed to the hospital and subsequently entered a rehab treatment center to deal with her substance abuse problems and eating disorder.
She spent more than a month in rehab and was photographed returning to Los Angeles on a private jet on March 3, while Rumer was in Miami on March 5 promoting her new film The Diary of Preston Plummer.
Rumer performed a concert in Los Angeles on March 6 but her mother did not attend. However, her mother's soon-to-be-ex-husband Ashton Kutcher was there supporting her.
The middle daughter, Scout Willis, performed with her band at a club in New York on March 15 but Demi was not there to support her.
It was more than a month later, on April 18, that Demi was spotted in public for the first time since entering rehab, at the premiere for her television special The Conversation, but none of her children were there.
Article continues below advertisement
Demi continued to stay out of the public eye though she was reportedly at a birthday party for Kaballah Rabbi Yehuda Berg in May where she encountered Ashton Kutcher.
On June 8, Demi, wearing a short black dress, arrived at her youngest daughter Tullulah Willis' graduation and was snapped by photographers arriving on her own, but she was never seen directly with her daughters. Bruce Willis was there at the graduation too and posed for photographs with his girls.
A source told Radar that none of the girls wanted Demi at the graduation but she turned up anyway and it was really strained. They had a huge fight afterwards and the girls decided it would be in their best interests to take a break from Demi for a while.
"Rumer, Scout and Tallulah just don't want to deal with the drama at the moment," a source close to the family said. "Since breaking up with Ashton, Demi has been a mess. The girls were there for her through it all -- the split and the rehab but now they just feel like they need a little distance.
Article continues below advertisement