Exclusive
Demi Moore's Daughters 'Worried' She Is Not Staying Sober Since Rehab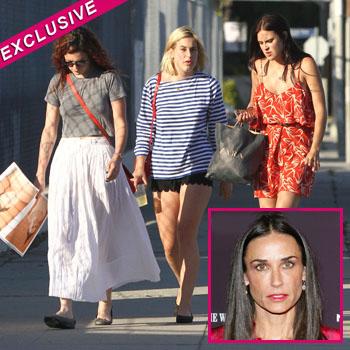 Article continues below advertisement
"They're really worried about everything she is doing lately and they're getting mad at her. Demi has been doing things that make them worry that maybe she isn't staying sober and they're not happy about her behavior.
"The last thing these girls need is dealing with their mother going through yet another episode."
The girls were all together at Tallulah's high school graduation over the weekend where Demi showed up looking very skinny in a short black dress.
"Things were really tense at the graduation," the source says. "Demi did not look healthy and did not seem in a good place. All three girls are concerned she may have relapsed."
RadarOnline.com has also learned that while the girls wanted their estranged step-dad Ashton Kutcher to attend the graduation, Demi wouldn't allow him.
"Demi said no way when she heard that Ashton wanted to go. She doesn't like how close he is to her daughters and especially now she doesn't want them hanging out with him," the source says.
Article continues below advertisement
The relationship between Demi and her three daughters has been strained for a few months and the source says that they are concerned about their future.
"Demi and the three girls are not close right now and their relationship is strained with a lot of bad feelings," the source says. "Things need to change so that Demi's daughters can feel better about her."
RELATED STORIES: