Bruce Willis' Parenting Rules: Taught Rumer, Scout And Tullulah To Shun Drama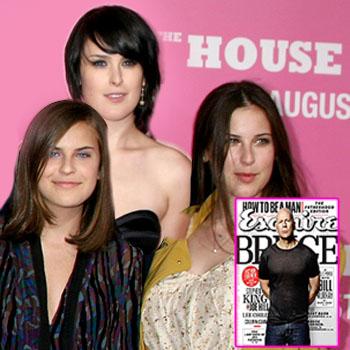 It's hard growing up Hollywood, but luckily Rumer, Scout and Tallulah Willis have their action star father's wisdom to go by!
Bruce Willis, who recently welcomed his fourth child, with model Emma Heming into the world, opens up in the June/July 2012 issue of Esquire, sharing his wisdom of parenting three girls with actress Demi Moore – and RadarOnline.com has the details.
"Sometimes I have to resist the urge to speak," Willis says. "I learned it from dealing with my kids. That's my number-one rule."
Article continues below advertisement
"It applies in life," he says. "But it's more about being a father. I'd rather hear what they have to say. You learn more by listening. And this stuff is just a matter of not equating drama with actions that will help them. Teach them to shun drama."
Another rule of parenting from Willis?
"Take responsibility for when you are wrong," he says. "They hear you own up, and they learn to own up."
"You have to give them a code," he explains, before getting to the fourth rule. "Beginning with things like 'Don't bite people.' That becomes something like 'It's not okay to be mean. Ever.' That was our watchword when the girls were younger."