Tallulah Willis Says Demi Moore Taught Her To 'Love Yourself, Run Around Naked'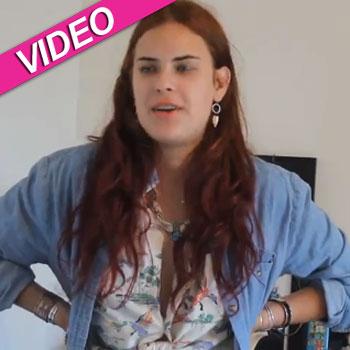 Article continues below advertisement
"I grew up with everyone should love and be happy and love yourself."
The younger of her siblings, Rumer and Scout , Tallulah says her action star dad Bruce Willis was very supportive of her too.
"Dad he always put inside whatever you want to do we love it," she says.
Showing off her clothes, including a necklace she says she stole from her mom, Tallulah says she was eager to grow up when she was younger.
"I wanted boobs so badly because I had two older sisters who were already going through puberty and were already developed women and I was so insecure," she confesses. "All I wanted was to feel like a woman and not feel like a 12-year-old boy. I saw my body go from a little beanpole to a woman shape."
The daughter of the Hollywood power couple, who have since divorced, said eating disorders are common among her friends.
Article continues below advertisement
"I've had so many friends of mine who had eating disorders, especially before Coachella. There's this whole diet craze - you don't eat anything for a month. It's so bad because everyone always talks about how that's not importatnat, everyone inside in this weird hidden place wants to be that weird skinny little person," she says.
Tallulah says she sees a contradiction in how people feel about self confidence. "It's almost like weird if you're like I love my body, everyone's like you're conceited. You have to be insecure and hate yourself to be the norm."