Demi Moore Nearly Unrecognizable In New Ad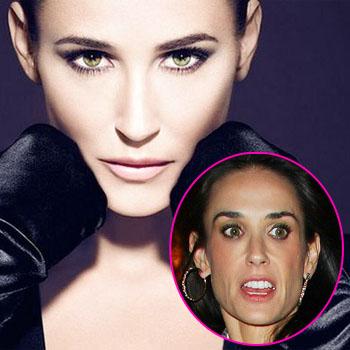 A new Helena Rubinstein advertisement featuring Demi Moore is causing quite a stir, as the image of the star used in the ad campaign bears little resemblance to recent pictures of the 49-year-old actress we've seen (without re-touching).
Some of the nuances we've noticed with the egregiously edited image: Demi's face is without wrinkles; the shape of her nose and chin are much different than what we've seen in the past; and the coloring of the image obscures her normally tan skin tone.
Article continues below advertisement
In fairness to the Ghost star, aside from Father Time, she's had plenty of things to keep those worry wrinkles sprouting: she checked into a rehab last month for an addiction to prescription pills and an eating disorder; she reportedly was despondent at the direction of her career, no longer getting the leading lady offers of yesteryear; and of course, the breakup of her marriage with Ashton Kutcher.
Thankfully, sources close to the G.J. Jane star said the worst of times seem to be in her rearview mirror.
"Demi feels great and she is eager to get back to work," a source said. "She has been focusing on her health in the last month and she's getting better every day. Demi wants to work again; she knows that she can handle a few projects so she's looking forward to that."
RELATED STORIES: