Exclusive
Demi Moore 'Despondent' About Her Career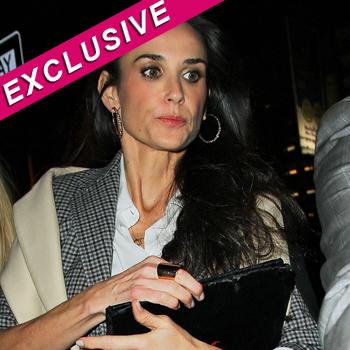 By Jen Heger - Radar Legal Editor
Demi Moore has been increasingly despondent and saddened about the path of her acting career has taken in the past 18 months and has increasingly grown dependent on prescription medication to deal with her anxiety and depression, RadarOnline.com is exclusively reporting.
As RadarOnline.com previously reported, the 49-year-old actress has been struggling with anorexia and taking the prescription pills Adderall leading up to her seizure on January 23.
Article continues below advertisement
The Striptease star "is very, very unhappy with her acting career. Demi is despondent because she feels that her career has stalled. It's been a very long time since Demi was the marquee star that would open a movie. One of the reasons that Demi is obsessed with being young is that she feels if she is seen out with her daughter and Rumer's friends that might help increase her chances of being offered a role that might go to a younger actress," a source close to the actress tells us.
It's been a rough few months for Moore. After allegations that Ashton Kutcher cheated on her, she announced that she would be divorcing her much younger husband.
Moore's next movie LOL, starring Miley Cyrus and Ashley Greene, finished filming last year, but the movie doesn't have a release date. Demi plays Miley's mom in the movie about teenagers dealing with the peer pressure and overbearing parents.
Article continues below advertisement
Ashton Kutcher: Blocking Journalists From His Twitter!