Charlie Sheen: 'Dear Ashton ... My Bad'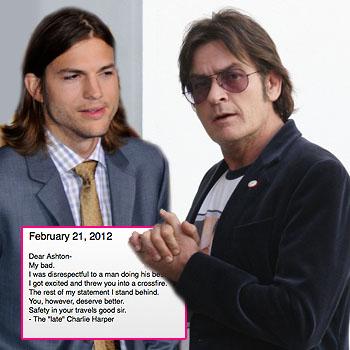 Perhaps Charlie Sheen really does know a thing or two about anger management!
The volatile star made amends Tuesday for his recent implication Ashton Kutcher cannot fill his footsteps during a tirade decrying his old show, Two and a Half Men, in recent media reports. 
Sheen, 46, took to Twitter and humbly told Ashton he was out of line in grouping him in with his real targets, the execs and decision-makers behind the CBS comedy.
Article continues below advertisement
"Dear Ashton- My bad. I was disrespectful to a man doing his best. I got excited and threw you into a crossfire," Sheen tweeted. "The rest of my statement I stand behind. You, however, deserve better. Safety in your travels good sir. - The 'late' Charlie Harper."
Sheen is a year removed from his unprecedented public battle with CBS execs and former boss Chuck Lorre, which led to his firing from TV's top-rated comedy -- and losing the medium's highest-ever salary -- in March 2011.
He was eventually replaced by Kutcher, and according to colleagues, the difference has been for the better on set.
While it looked like Sheen had made peace with the situation -- even admitting he'd have fired himself, based on his endless bad boy antics -- it's apparent the man with Tiger Blood and Adonis DNA still's got a few things to get off his chest about his old job.
And of course, we'll let you know when he does, right here on RadarOnline.com.