REPORT: Demi Moore And Ashton Kutcher May Be Getting Back Together!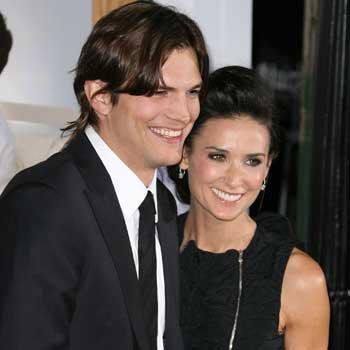 Demi Moore and Ashton Kutcher split last year following his very public cheating scandal and they've been separated for months but a new report is claiming that the Hollywood superstars may be headed for a shocking reconciliation.
They apparently were together this week at a birthday party for the man who officiated their wedding, and their reunion was an emotional one, with the couple "locked in a 60-second embrace," at one point.
Article continues below advertisement
"They are still desperately in love and could be on for a reconciliation," a source told the Sunday Mirror about Demi and Ashton. "The divorce isn't being processed right now."
Demi, 49, and Ashton, 34, were married for six years when he was caught cheating on their wedding anniversary, first reported by RadarOnline.com and Star magazine. But their recent reunion seems to have rekindled their feelings for each other.
According to the Sunday Mirror, Ashton gave a speech at Kabbalah Rabbi Yehuda Berg's 40th birthday party and teared up when he said "I've made all these horrendous mistakes in the last year."
A guest at the party said "Ashton's voice started to break as he spoke. He just fell into tears. He sat down to a round of applause while Demi just looked frozen."
Ashton, 34, reportedly arrived at the party at the Beverly Hills Hotel two hours before his ex and their interactions sparked the reconciliation buzz.
Article continues below advertisement
"Ashton was there quietly socializing and Demi showed up a couple of hours later looking amazing.
"She went over to wish Yehuda a happy birthday and Ashton was right by him. Yehuda left them to talk. They started to chat and were extremely affectionate. She was staring at him like a love-sick puppy," a party guest told the Sunday Mirror.
They added details about the couple, saying that their actions insinuated that they were on the mend.
Ashton Kutcher Commercial Pulled After Cries Of Racism
"They both sat at the front with a mutual friend between them. Demi got up to speak and spoke about family not necessarily being your blood but being people who love you.
"Then Ashton got up and he spoke about how amazing Yehuda was.
"He said that if Yehuda is your friend, he'll love you unconditionally, no matter what mistakes you've made, before making the emotional admission that he had made mistakes. It was obvious he was referring to the break-up."
Article continues below advertisement