Demi Moore Changes Twitter Name, Dumps @mrskutcher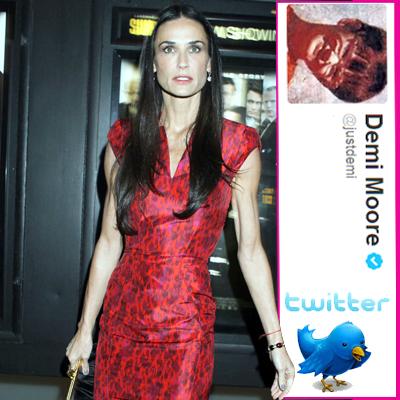 Finally!
Nearly six months after she and Ashton Kutcher split, Demi Moore dumped her Twitter name @mrskutcher on Thursday. Instead, the 49-year-old Ghost star is now using @justdemi.
Moore and Kutcher announced the end of their marriage in November, leading many people to wonder when she would change her Twitter handle.
In December, she tweeted that changing her Twitter name wasn't "a top priority now."
Article continues below advertisement
But then, in April, the actress -- after a widely publicized stint in rehab -- asked her nearly 5 million followers for suggestions for a new handle.
At the time, CNN talk show host Piers Morgan had one for Moore: @mrsmorgan.
"I think that one is taken," she playfully tweeted back.
Moore said she would "have to get clever" because so many names have already been claimed.
She wrote Thursday that it was "so hard finding a name that was fun somewhat playful and available." She said her new name "could grow on me."