Demi Moore Shows Her Face For First Time Since Daughter's Nude Photo Scandal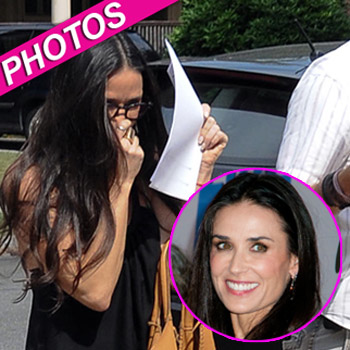 Article continues below advertisement
"Rumer, Scout and Tallulah just don't want to deal with the drama at the moment," a source close to the family exclusively told RadarOnline.com. "Since breaking up with Ashton, Demi has been a mess. The girls were there for her through it all -- the split and the rehab but now they just feel like they need a little distance.
"Demi is just being very needy right now and the girls are tired of it, they want a mother not another little sister. They are all concerned that she is going to relapse and head back to rehab and they can't deal with the stress and worry of it."
Tallulah's topless photos are just the latest scandal to hit the Willis girls -– with Tallulah and Scout both being busted for underage drinking, and then in 2007, oldest sister Rumer was one of four people in a hotel room in Aberdeen, Md. when cops came in and arrested one of the group for marijuana possession. Rumer was questioned at the scene but was not arrested and was never charged in connection with the incident.