Spanx Slip-Ups! 10 Stars Who've Embarrassingly Showed Off Their Shapewear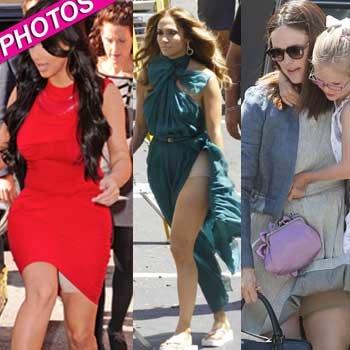 Not every Hollywood star will admit to wearing Spanx, but several of them have accidently revealed their not exactly sexy shapewear through embarrassing wardrobe malfunctions!
From the red carpets of the hottest events to the city streets, stars love slimming down in an instant with the help of body-shaping undergarments, but sometimes their clothes slip up and their secret is exposed to the world. RadarOnline.com has photos of 10 stars who have embarrassingly showed off their shapewear.
Article continues below advertisement
Jennifer Lopez and Beyonce are famous for their Bootylicious backsides, but apparently the two divas get a little help smoothing out their rumps! Both babes accidently revealed their little lingerie secret, when their sexy dresses failed to stay in place.
Kim Kardashian has crazy curves, and apparently the reality bombshell needs help keeping them in control. The usually perfectly put together glamazon once showed off her nude shapewear under a bright red dress, making a not so stellar style statement.