Exclusive
Demi Moore's Daughters Growing 'Ever Increasingly Concerned' About Her Bizarre Behavior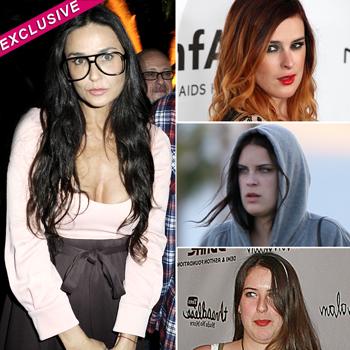 Article continues below advertisement
Last Wednesday, Moore was snapped performing some very attention grabbing and peculiar gyrations at the Chanel Beachside Barbecue at the Soho House in Miami for Art Basel. Showing off her very slender long legs, Demi was busting a move to the music, wildly dancing around, much to the amusement of fellow partygoers Lenny Kravitz and George Clooney.
Earlier that evening, Demi set tongues wagging by turning up at the exclusive Chanel Beachside Barbecue with a very unusual dinner guest -- a stray cat that she had found poolside at the Soho Beach House! An eyewitness told the New York Post: "The kitten sat on Demi's lap throughout the meal… She was cuddling and petting it."
Moore continued her attention hungry performance Friday night, hitting the red carpet for the Art Basel celebration of fashion photographer Terry Richardson, and upstaged the guest of honor in a deeply scooped, cleavage-revealing dress. Sporting a pair of huge new black eyeglasses, Demi pranced and mugged for photographers, pulling a variety strange faces and poses.
"Rumer, Tallulah and Scout are mortified by their mother at the moment," the source says. "They are becoming ever increasingly concerned about her bizarre and outlandish behavior. Demi just seems absolutely desperate for attention and they fear that she isn't in a good place mentally right now.
Article continues below advertisement
"They had to hold an intervention for her earlier in the year prompting her to check into rehab for treatment and they fear the same thing is going to have to happen again. To say they are worried about her would be an understatement."
As RadarOnline.com previously reported, Moore only recently reunited with the girls after a period of estrangement, and the source says they fear Demi's bizarre behavior could drive a wedge between herself and her daughters once again.
"The girls are thoroughly embarrassed by Demi right now and her desperation for attention is troubling," the source says. "They say it is very out of character for her to be behaving the way she has been and they are concerned there is some deep routed issue at the heart of it. And, it's not just the girls who are worried -- several of Demi's friends have also said they are concerned something is seriously wrong right now."