Lindsay Lohan's Talent Company Offering Her Up For Weddings & Bat Mitzvahs Amid Financial Troubles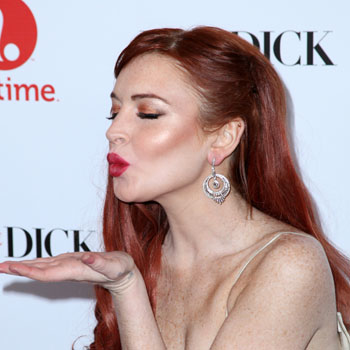 By Amber Goodhand - RadarOnline.com News Editor
Lindsay Lohan's financial burdens are catching up with her, because the Liz & Dick star's talent agency is now offering up their client for appearances at weddings and Bat Mitzvah's in an effort to wrangle in some extra cash, RadarOnline.com is reporting.
According to a new report, the New York Post received a pitch via email from 123Talent — an agency claiming to rep the actress — with the subject line "Book One of Hollywood's Biggest Movie Stars Lindsay Lohan Now!"
Article continues below advertisement
The email pitch went on to say that Lindsay, 26, would make appearances at any event, such as weddings and Bat Mitzvahs.
"Not only is Lindsay an Actress but she is also a Fashion Designer, Model and Recording Artist," the pitch reminded readers in hopes it would add value to her appearance.
As RadarOnline.com previously reported, Lindsay's bank accounts were recently seized by the IRS for unpaid taxes in 2009 and 2010 to the tune of $233,000.
A highly lucrative endorsement deal also weighs in the balance for Lindsay with Odaingerous clothing line, who initially offered the troubled actress around $500,000 to be their spokesperson, but her recent arrests and legal troubles have the company re-thinking their offer and nothing has been signed.
And Lindsay's dad, Michael Lohan, exclusively told RadarOnline.com the Mean Girls actress' management team has turned down more than $100,000 in job offers recently, despite her need for an income!
Article continues below advertisement
"One deal is for $100,000 for a phone application which blocks unwanted calls," Michael explained about the offers. "The other is for $30,000 for a 'Don't Drink and Drive message!'"
Michael slammed Lindsay's new management team, saying, "Are they going to pay her bills? Seems like someone wants Lindsay to fall hard, which will only further cause stress, which she doesn't need! I am sick of these inept people!"