PHOTOS: Booked & Beautiful! Bikini Babes Who've Been Arrested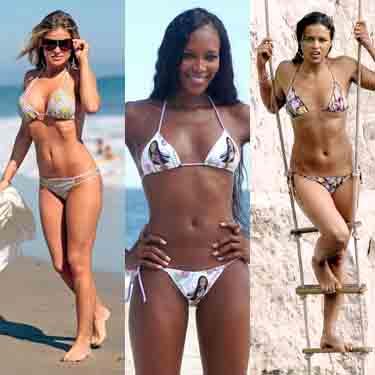 These sexy stars may have dangerous curves, but that's not what got them in trouble with the law. RadarOnline.com has photos of the sexiest bikini babes on the planet, who have secured their position in the mug shot hall of fame. Click the next sentence to see bikini babes who have been arrested.
Click Here To See What Bikini Babes Have Been Arrested
Carmen Electra's figure isn't the only thing about her that is fierce. The Playboy Playmate was arrested and charged with battery back in 1999 when feathers flew between Carm and her then-hubby Dennis Rodman. Ever since, she has managed to avoid the flashing lights of the cop car. See Carmen stripped down into her barely legal bikini by clicking here.
Article continues below advertisement
Paris Hilton may have starred on The Simple Life, but her criminal history is a tad complicated. The smoking hot heiress has been arrested for three separate incidents, involving booze, marijuana and cocaine. Whether or not Paris really broke the law, she is definitely guilty of something-looking totally sexy in her bikini. See Paris bare all in her bikini here.
Indecent Exposure? Nina Dobrev, who stars on the hit CW show Vampire Diaries, grabbed headlines when she and her sexy costars engaged in a little-too-sexy photoshoot near the set of their Georgia show in 2009. Arrested by the local police and released on $1,000 bond, the girls definitely scored top honors for their gorgeous mugshots. See Nina's sensational swimsuit body here.
And when it comes to mug shots, Lindsay Lohan has several in her portfolio. From 2007 until 2010, the bikini babe has been photographed a total of four times by cops, stemming from her various run-ins with the law. See Lindsay's fat-free bikini bod here.
Reality bites for steamy reality show stars Khloe Kardashian, Kelly Bensimon and Stephanie Pratt. While Khloe and Steph were arrested for DUI's, Kelly was charged with misdemeanor assault for punching her boyfriend in 2009. See Khloe's curves here, Kelly's here and Stephanie's here.