Exclusive
Lindsay Lohan Gifted Over $200k Of Furniture To Appear On Show, But Bailed After Receiving The Freebies!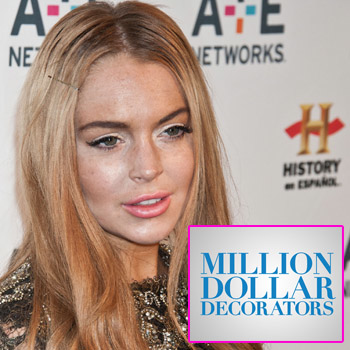 Lindsay Lohan was gifted over $200k of furniture for the Beverly Hills house she has been renting, in exchange for agreeing to appear on Bravo's Million Dollar Decorators, however, after receiving her freebies, the embattled actress reportedly bailed on appearing!
According to the New York Post, Lohan approached Kathyrn Ireland, one of the hit show's famed decorators, at a New Year's Eve party last year and asked if she could appear in an episode.
Article continues below advertisement
"I didn't know who she was when I met her," Ireland told the Post. "It was only when she said to her sister, 'Wouldn't you love a mother like her?' that I thought 'How rude' and turned to someone and asked who she was."
Ireland said that when she arrived at Casa de Lohan with the film crew they were escorted into the actresses' bedroom and were shocked to find there was no furniture, except for a four poster bed!
According to Ireland, Lohan told her she wanted the bedroom to be "very princessey," and they established a decorating budget of $250k. However, after the goods were delivered and decorating completed, Lohan went AWOL!
Bravo confirmed that Lohan "was not available for the reveal shoot, but we were still able to capture the outcome, just like we do for many of the reveal episodes."
As RadarOnline.com previously reported, as well as a myriad of ever increasing legal woes, Lohan is also suffering financial hardship - so much so that the troubled 26-year-old has been complaining to friends that she is unable to afford to see a psychiatrist.
Article continues below advertisement