Former General 'Stormin' Norman' Schwarzkopf Dies At 78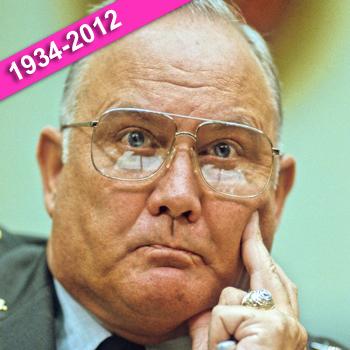 Retired General H. Norman Schwarzkopf, best remembered for his role at the helm of the 1991 Persian Gulf War, died Thursday at 78 in Tampa, Florida from pneumonia complications, RadarOnline.com has learned.
Tributes poured in from the political and military elite in memory of the four-star general, who was famously nicknamed "Stormin' Norman" for his fierce temper and strong leadership.
Article continues below advertisement
President Barack Obama called the military great "an American original" who "stood tall for the country and Army he loved."
Defense Secretary Leon Panetta said in a statement: "The men and women of the Department of Defense join me in mourning the loss of General Norman Schwarzkopf, whose 35 years of service in uniform left an indelible imprint on the United States military and on the country. My thoughts and prayers are with the Schwarzkopf family in this time of sadness and grief."
ON YOUR RadarOnline.com 2012: The Most Heartwarming & Inspiring Feel Good Stories Of The Year
Ex-Secretary of State Colin Powell said Schwarzkopf's "leadership not only inspired his troops, but also inspired the nation.
"He was a good friend of mine, a close buddy," Powell said. "I will miss him."
Former President George H.W. Bush, who was in office during the war, issued a statement through his office (as he remains hospitalized in Houston Texas with an ongoing fever), calling Schwarzkopf's death "the loss of a true American patriot and one of the great military leaders of his generation.
Article continues below advertisement
"Gen. Norm Schwarzkopf, to me, epitomized the 'duty, service, country' creed that has defended our freedom and seen this great nation through our most trying international crises. More than that, he was a good and decent man -- and a dear friend."
Schwarzkopf grew up in a military family, as his father (who had the same name) was a brigadier general in the army (as well as overseeing the Lindbergh baby kidnapping in a previous role as founder and commander of the New Jersey State Police).
The Operation Desert Storm leader served two tours in Vietnam, racking up three Silver Stars for valor, a Bronze Star, a Purple Heart and three Distinguished Service Medals for his heroic actions.
He told 20/20 in 1991 that had he come face-to-face with Saddam Hussein as he tried to drive his forces out of Kuwait, he would have told him to "get out of town."
He retired after the war, and penned his memoir It Doesn't Take a Hero: The Autobiography of General H. Norman Schwarzkopf.
Article continues below advertisement