Tom Cruise Plays 'Water War' With Jimmy Fallon In First Post-Split Interview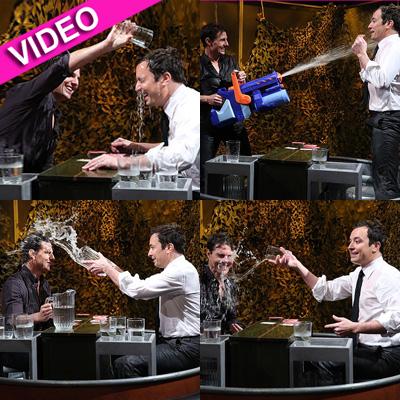 Tom Cruise, in his first network interview since breaking up with Katie Holmes, appeared on Late Night with Jimmy Fallon Tuesday, and while the K-word wasn't mentioned, the A-list actor faced off against Jimmy in his Water War bit, and opened up about a bizarre moment filming his new blockbuster Jack Reacher.
"The worst injury I had from Jack Reacher was … I hurt my foot," the Collateral star recalled. "There's a scene where I'm kicking a guy in the b*lls, the testicles. It was a human being -- no testicles were injured in the making of the film!"
Article continues below advertisement
He continued, "We had to do the take over and over again, and the first 10 times it was like 'Yeah!' … after about 50 times in, my foot was swelling ... I kept having to loosen my shoe."
"Your foot: Imagine the poor guy's testicles!" Fallon joked, "Maybe Jack Reacher should wear Ugg boots!"
"I was limping for days," the A Few Good Men Star said, to which Fallon replied, "So was he, I'm assuming."
The 50-year-old then played Water War with Jimmy, which begins with a draw of cards from a deck. When Jimmy got the high card, he doused the perennial A-lister with water, via a glass and a jug, before Tom flipped on the action hero switch, leaving the late night host with a Super Soaker gun.
While visiting NYC Tom was spotted on December 16 at the restaurant Beauty & Essex where he was overheard talking about how many beautiful women were in the restaurant, clearly having moved on from his ex-wife!
With his affable, playful, nature Fallon has been the most popular late night host with in-demand celebrities as of late, having also snagged recent appearances with Katie and Lindsay Lohan.
Jack Reacher, also starring Robert Duvall, opens in theaters everywhere Friday.