Holiday Movie Preview: 5 New Blockbusters You Can't Miss!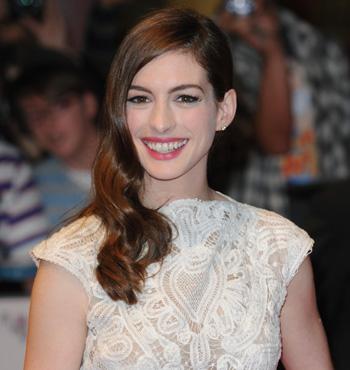 LES MISERABLES
Dec. 25
The timeless musical tale of love and longing in the midst of the French revolution has an all-star cast taking on Jean Valjean (Hugh Jackman), Inspector Javert (Russell Crowe), Fantine (Anne Hathaway) and her daughter cosette (Amanda Seyfried).
SACREBLEU
Unlike other movie musicals, with their prerecorded vocal tracks, the cast of Les Mis sang their songs live on camera, just like in a stage production — luckily, the piano playing in their ear will be swapped for a 70-piece orchestra. "This is the first time anyone's ever tried it like this," says Hathaway, while Jackman admits that "the idea of singing live is daunting." At least you've starred on broadway before, buddy. How do you think Russell Crowe feels?
Article continues below advertisement
ZERO DARK THIRTY
Dec. 19
Director Kathryn Bigelow (The Hurt Locker) examines the 10-year manhunt that led to the killing of Osama Bin Laden — from the gathering of info by an intelligence specialist (Jessica Chastain) to Navy SEAL Team Six hitting the ground in Abbottabad.
What's in a name?
Not only is the film title a military term that means 30 minutes after midnight, but, according to Bigelow, "it refers also to the darkness and secrecy that cloaked the entire decade-long mission." We're guessing her 1991 flick Point Break didn't pack quite the same symbolism.
THE IMPOSSIBLE
Dec. 21
It's 2004, and a family on Christmas vacation in Thailand is separated by the devastating Indian Ocean tsunami. Amidst the chaos, Maria (Naomi Watts) and her eldest son must somehow find husband Henry (Ewan McGregor), who is with their two youngest boys. Based on the true story of a Spanish family, this drama is as uplifting as it is haunting.
Water World
Filming the frighteningly realistic recreation of this natural disaster took its toll on Watts. "I'm into my 40s now, so it was a hard thing to be repeatedly thrust around for a month," she says. "I remember being asked while filming to say this or that, and I was like, 'I can't speak! I've got a mouthful of water!'"
Article continues below advertisement
JACK REACHER
Dec. 21
Tom Cruise is the titular badass, a former military policeman turned drifter who roams the country solving crimes with nothing but an uncompromising moral compass and uncanny ability to beat the crap out of people. There are 17 books in author Lee Child's best-selling Reacher series, so if this is a hit get ready for a bunch of sequels.
Size Doesn't Matter
Some diehard fans were miffed when 5'8" Cruise was tapped to play reacher, who stands 6'5" and weighs 250 lbs. in the books. But Child had Cruise's (tiny) back. "With another actor, you might get 100 percent of the height but only 90 percent of the Reacher," he says. "With Tom, you'll get 100 percent of Reacher with 90 percent of the height." Well, technically it's 88.3 percent, but we'll let it slide.
THE HOBBIT: AN UNEXPECTED JOURNEY
Dec. 14
Nearly 10 years after the epic Lord of the Rings trilogy ended its run on the big screen, director Peter Jackson is back with this prequel, the first in a new trilogy. This goes back 60 years to tell the tale of Bilbo Baggins (Martin Freeman), Gandalf (Ian McKellen) and a dozen dwarves traveling to The Lonely Mountain to reclaim a stolen treasure.
The Ears Have It!
So what did Jackson see in Freeman, a costar on the BBC's original The Office? "I think he saw a funny-looking face and someone who would fit the ears," Freeman jokes. One thing's for sure: It definitely wasn't for his Tolkien knowledge. The actor hadn't even read The Hobbit until he was cast as Bilbo.