ON YOUR RADAR 2012: The Most Heartwarming & Inspiring Feel Good Stories Of The Year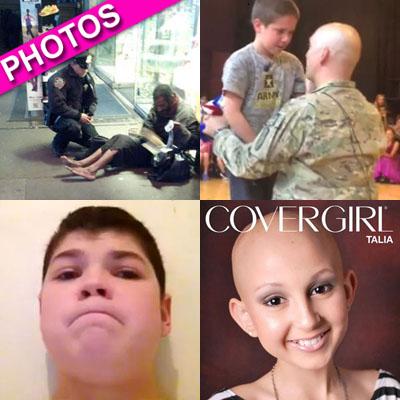 Article continues below advertisement
New York City policeman Lawrence DePrimo brought new meaning to the season of giving when he went to the aid of a barefoot homeless man who he found sitting on the cold pavement near Times Square on a freezing November night. Instead of leaving him shivering on the sidewalk, the NYPD officer went to the nearest Skechers store and bought him a sturdy pair of winter boots.
The random act of kindness by a guardian angel in uniform may have gone unnoticed if not for a tourist from Arizona who snapped the heart-warming image on her cell phone and posted it to the New York Police Department's Facebook page. The photo then went viral and transformed 25-year-old DePrimo into a national hero.
"I didn't think anything of it," said the modest guardian angel, who recalled: "It was freezing out and you could see the blisters on the man's feet. I had two pairs of socks and I was still cold."
Sometimes it takes a whole team to stand up to bullies, such as at an Arizona high school where the varsity football players befriended a special needs student. Senior Carson Jones began joining Chy Johnson for lunch, despite him being a popular jock and her suffering from a brain disorder called microcephaly, a condition that, among other things, makes her head significantly smaller than average.
Article continues below advertisement
The unlikely pair quickly became a regular sight at the Queen Creek High cafeteria and soon other players such as Tucker Workman were joining in the lunch rendez-vous. Instead of going home crying everyday, Johnson now has a whole team of new friends, and the Arizona State Legislature is planning to recognize them for their proactive anti-bullying step.
A lifetime of wedded matrimony ended with one enduring couple dying just an hour apart! Gordon and Norma Yeager were man and wife for 72 years before the State Center, Iowa, couple was involved in a car accident in October that landed them both in intensive care.
As the couple's condition deteriorated, they were moved into a room together and put into beds side-by-side so they could hold hands. Gordon, 94, passed away at 3:38 p.m. -- but what appeared on his monitor shocked his family. "Someone in there said, 'Why, then, when we look at the monitor is the heart still beating?'" their daughter, Donna Sheets said. "The nurse said Dad was picking up Mom's heartbeat through Mom's hand." Gordon's wife Norma, 90, died exactly one hour later.
Article continues below advertisement
"Dad used to say that a woman is always worth waiting for," Dennis said. "Dad waited an hour for her and held the door for her."
A 13-year-old cancer sufferer had plenty to smile about when she was named the honorary face of Cover Girl cosmetics thanks to her love of teaching online classes. Talia Joy Castellano, who is battling both leukemia and a brain tumor, has attracted more than 14 million viewers to her video blog, which she began to demonstrate the dramatic make-up she wears to deflect her attention to her facial features instead of her baldness.
"I am just trying to make young girls, young adults, adults, anyone, feel beautiful by using make-up," said Talia when she was first shown the Cover Girl campaign poster on Ellen in October. The plucky teen regularly endures punishing sessions of chemotherapy, radiotherapy, stem cell transplants, and blood transfusions.
Rather than singing about her break-ups, Taylor Swift made the heart of a leukemia sufferer sing when she took him to the American Country Music Awards as her date. The country star had been invited to attend Kevin McGuire's prom in New Jersey but couldn't make it, so instead she she invited him to the Las Vegas show in April.
Article continues below advertisement
"Kevin I'm so sorry but I won't be able to make it to your prom," Swift posted on her Facebook page as a romantic proposal. "But I was wondering, the ACM Awards are coming up. Would you be my date?"
Christopher Bratic of Grand Blanc, Michigan, was battling extreme nerves before taking to the stage to recite the Pledge of Allegiance to his school but he had no idea the outpouring of support he would get from a very special member of the audience.
The 10-year-old burst into tears when his soldier dad, who he thought was fighting in Afghanistan walked into the school assembly hall and hugged him during his rendition. "I just want to grab him like a little pillow, kiss him and squeeze him," gushed Staff Sergeant Bratic over his son, who has worn a camouflage tee-shirt to class every day since his father was sent to war.
For more touching tales and tear-inducing stories, check out our special photo gallery!