Details Emerge About Tragic Last Moments Of Kate Middleton Prank Call Nurse, Suicide By Hanging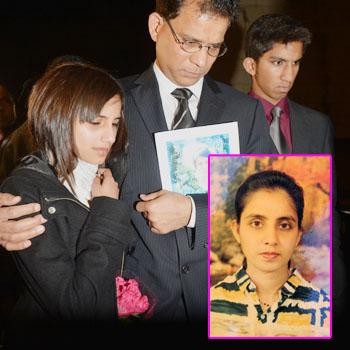 Article continues below advertisement
As RadarOnline.com previously reported, Saldanha left a suicide note for her family who, according to Australian media, did not know about the phony call which was made at 5:30 a.m. last Tuesday.
Saldanha's husband, Ben Barboza, 49, and their children Junal, 17, and Lisha, 14, have demanded to "know everything" about the events running up to and surrounding her death.
British Labor MP Keith Vaz, who is representing the family, said his clients were "in the dark about the hoax call" and "hadn't watched the news or seen anything about it." He went on to claim the family knew nothing about their loved one's involvement "until after Jacintha's death."
The DJ's Mel Greig and Michael Christian, who made the call pretending to be the Queen and Prince Charles, have tearfully apologized for the prank and remain on indefinite suspension from the radio station, 2DayFM.
The station, and its hosts, have faced an avalanche of negative press and backlash following Saldanha's suicide. On Monday, the station announced it was canceling Hot 30, the beleaguered DJ's radio show, and released a statement Tuesday announcing they were pledging a donation to the late nurse's family.
Article continues below advertisement
"All profits from advertising on 2DayFM until the end of the year will be donated to an appropriate fund that will directly benefit the family of Jacintha Saldanha," the parent company of the station, Southern Cross Austereo, said.
They pledged at least $500,000, and expressed "deep regret for what has taken place in these tragic and unforeseen circumstances."
A post-mortem examination has taken place on Saldanha's body but the results are not yet known.