NY Homeless Man No Longer Wearing Boots Given To Him By Good Samaritan Cop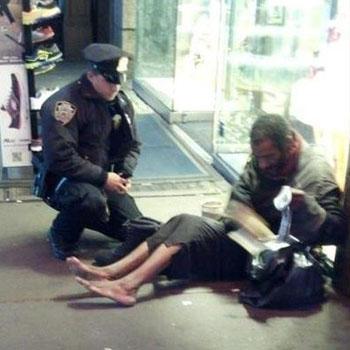 The homeless man who New York police officer Lawrence DePrimo famously bought a pair of boots for says he's not wearing them because he feels in danger wearing the valuable footwear on the rough-and-tumble streets of the Big Apple.
"Those shoes are hidden," the homeless man, now identified as Jeffrey Hillman, 54, told the NY Times. "They are worth a lot of money … I could lose my life."
Article continues below advertisement
The now-viral image was taken last month during a frigid night at Times Square, when Officer DePrimo, 25, gave Hillman a $100 pair of Sketchers. The random act of kindness was captured on a cell pic by an Arizona tourist, who subsequently posted it to the New York Police Department's Facebook page, where it went viral.
Hillman, an Army veteran, displayed a cavalcade of emotions as the incident received more attention, according to a report from the paper.
Hillman complained, "I was put on YouTube, I was put on everything without permission. What do I get? This went around the world, and I want a piece of the pie."
Hillman told the paper he has two kids in their 20s, although they are estranged. In fact, his kids didn't know their dad was homeless, until they saw his photograph on the news. When asked how he fell into his current predicament, he said, "I don't know."
Article continues below advertisement