NYC Cop Who Gave Boots To A Homeless Man Says 'I Was Inspired By My Grandfather'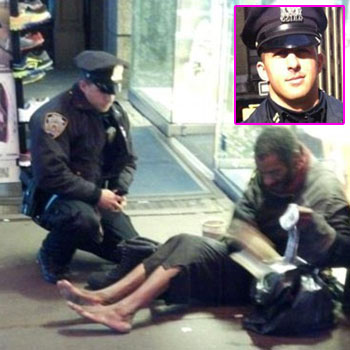 By Debbie Emery - RadarOnline.com Reporter
A rare act of selfless generosity that was captured in a single cell phone photo has had a young New York City police officer hailed as a hero, and now the guardian angel in uniform is speaking out about the heart-warming move.
"If I had to choose a few words, 'surreal' would definitely be one of them. And 'humbling.' It's an absolutely humbling experience that I'm able to go through this right now," New York City police officer Lawrence DePrimo told CBS News.
Article continues below advertisement
As RadarOnline.com previously reported, the 25-year-old officer was working a counterterrorism post when he encountered a barefoot homeless man shivering on the street near Times Square on November 14 and immediately disappeared and returned moments later with a new pair of boots, and even knelt to help the man put them on.
The random act of kindness may have gone unnoticed if not for a tourist from Arizona who snapped the heart-warming image on her cell phone and posted it to the New York Police Department's Facebook page, and by Friday it had already garnered more than 538,000 likes and been shared 197,000 times.
"I had two pairs of winter socks on and my combat boots, and my feet were still cold. And I was standing on West 44th and Broadway. And I had heard somebody laughing," revealed DePrimo, who realized that the object of the mocking was a freezing homeless man huddled on the sidewalk.
"You could just see the blisters. You know, he was just walking on the palms of his feet there. And - it was - it upset me. And, so, I went up to him and I said, I was like, 'Buddy,' I was like, 'where's your - where's your socks, where's your shoes?' He was like, 'It's OK, officer, I never had a pair of shoes.'"
Article continues below advertisement
Rather than turning a blind eye and walking away, the caring cop ran into a Skechers shoe store and didn't even buy the cheapest pair he found, but instead picked out some sturdy boots that he knew would keep the cold out that even with store manager Jose Cano's discount cost nearly as much as the $120 a rookie New York City police officer earns in a day.
"We were just kind of shocked," said Cano, 28. "Most of us are New Yorkers and we just kind of pass by that kind of thing. Especially in this neighborhood."
The eye witness to the incident who took the now famous photo was Jennifer Foster of Florence, Arizona, who revealed: "I heard him quite clearly say, 'I have size 12 all-weather boots for you, let's take care of you. And the gentleman sat down against the wall and I'm telling you, his face lit up and he smiled."
Modest DePrimo shared that he was totally oblivious that he had even been seen until two nights ago when he was eating dinner with his parents in their Long Island, New York, home. "My friend sent me a picture. And he's like, 'It's online. Everybody knows what you've done. Thousands of people have heard about it.' I was like, 'I haven't even heard about this. So, how is this possible?'"
Article continues below advertisement
As for what turned a tough guy from the city into such a giving soul, DePrimo revealed, "My grandfather, he told me if you're going do something, 'do it 100 percent or don't do it at all.'"
DePrimo has been on the force for three years said he hopes to one day be on the ESU, the Emergency Service Unit, a SWAT and rescue team of the NYPD.
RELATED STORIES:
Erin Moran Has Become A Recluse: Is Homeless And Writing A Book!