Exclusive
Van Der Sloot's Lawyer Ripped Me Off, Says Joran's 'Guardian Angel'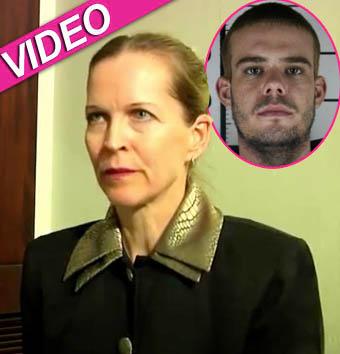 Article continues below advertisement
Two days later he was sentenced to 28 years in prison, along with being ordered to pay the victim's family $74,500, almost exactly the same amount that Hamer sent for his "fake bail."
"The key concern of mine is the unprofessional conduct of Attorney Jimenez," said Hamer from the Lake City, Florida, in an exclusive interview with filmmaker Albert Harris, Jr of Whitelight Productions and cameraman Kell Ramos, that was recorded as part of their upcoming documentary on van der Sloot.
Article continues below advertisement
"Now I find out by Peruvian law that there is no bail in Peru for murder. Why didn't Attorney Jimenez inform me that this is impossible?" she asked desperately.
Jimenez insists it was a miscommunication and that he never asked for the money for "bail" saying that he asked for "parole" and it was lost in translation.
EXCLUSIVE DOCUMENTS: Read Joran Van Der Sloot's Personal History, In His Own Words
Upon learning that it was impossible for van der Sloot to get bail, the Florida-based radiologist asked his attorney to return her hard-earned money. Not only does she want a refund, she also thinks that Jimenez's actions justify a mistrial.
"I consider it unprofessional conduct so I am asking the Peruvian legal system to vacate Joran van der Sloot's sentence of Friday, January 13," said Hamer, who claimed to RadarOnline.com that the lawyer had violated attorney-client privilege repeated times by telling her details of the case.
"Jimenez is not being honest with me and sends me threatening e-mails back that I am hurting his reputation. I am the victim here."
Article continues below advertisement
The latest chunk of money is far from the first that she has wired to Peru to help van der Sloot.
"I have sent Jimenez about $100,000 in legal fees, bail money and other expenses. I've sent them because he has asked me to pay his legal fees.
"He e-mailed me at the end of 2011 and informed me that he has three months of unpaid legal fees, and that he charges $1,500 a month. I wired him about $16,000 at that time."
Jimenez says all the money that was sent was requested by Joran, and not by him, and that he was holding it in account for the murderer's legal fees.
In a prior interview, Hamer revealed to RadarOnline.com that her dedicated support of the Aruban native has almost sent her bankrupt.
"He's Joran van der Sloot's attorney and I want to help him, and I trusted him with my money.
"He talked about an apartment for Joran, he talked and communicated with me as if bail is a possibility for someone charged with murder. I consider his behavior dishonest. Most importantly, he has a duty to his client," said Hamer, adamantly.
Article continues below advertisement
It is not only Jimenez that has been ripping off the well-meaning 55-year-old, who revealed the convicted killer's mother also took money from her.
"In the second part of 2010, I sent Anita van der Sloot about $20,000 for Joran's care - for food, clothes, legal fees and other expenses. He said he'd never seen any of that money," said Mary.
"Where did that money go? I don't know."
Watch part of Mary's interview below: